Chris Christie Shouts Down Occupy Wall Street Hecklers: 'We're Used To Jokers Like This In New Jersey'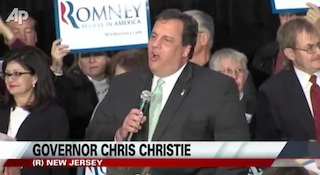 Another day, another video of someone attempting to heckle Chris Christie. This time, Christie got the Occupy Wall Street "Human Microphone" treatment at a Mitt Romney rally in Iowa.
Really, at this point, you have to have a kind of bad, masochistic streak to decide you want to shout this guy down. It's like an ugly person buying front row tickets to a Don Rickles show. Come on, you know what's gonna happen.
So, yeah, the instant you start hearing the shouts of "Mic check" in this video, you can tell how it's going to go. Protestors start yelling, Christie smiles to himself, mentions the state of New Jersey 50 times, crowd roars its approval.
If there's anything that can learned from this it's that we people from the Garden State have the magical ability to merely say the words "New Jersey" and it will shut down any possible argument. Being born and raised there, I'll try it out myself. Here we go: "Hey, all you commenters who are planning on disagreeing with this post in the comments section, I hope you know that I dealt with people like you in New Jersey. That's right, New Jersey!"
See? You just got Christied.
Watch the video from the Associated Press below. At the time of this writing, there appears to be something wrong with it that causes the sound to cut out for the last few seconds. However, unless Christie had a sudden change of heart and decided he and Mitt Romney were just helping the corporate 1% right at the end of this video, I think we get enough of the idea.
(h/t Breitbart.tv)
Have a tip we should know? tips@mediaite.com