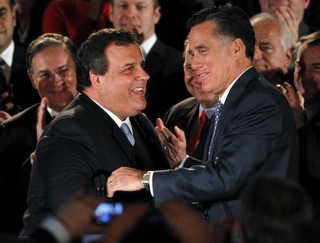 Politico reports this morning that Mitt Romney's first choice for vice president had been none other than New Jersey governor Chris Christie — an enthusiastic surrogate for Romney throughout the election who has made headlines this week for surveying his state's devastation alongside President Barack Obama.
Politico was given a detailed account of the selection process, recounting just how close Christie was to being named Romney's running mate:
Romney was so close to picking Christie that some top advisers at the campaign's Boston headquarters believed the governor had been offered the job. The campaign made tentative plans to announce a pick in late July, just before Romney headed off on his overseas trip, starting with a stop at the London Olympics.

"Mitt liked him because he saw him as a street fighter," a Romney official said. "It's the kind of political mentality that Romney doesn't have, but admires. He wanted someone who could play the Chicago game [like Obama headquarters] on its own terms."

In fact, Christie was never the final choice. Romney hit "pause" on the possibility shortly before his trip to the Olympics. Then he settled on Ryan the day after returning.
Some close to Christie told Politico that they believed Governor deserved more of a "heads up" when Romney had ultimately selected Paul Ryan. While Romney appreciated Christie's candor and straightforward attitude, sources reveal that Romney's aides began to grow less enthused about the Governor after he showed up late to several events. And, then, there was the matter of whether Christie would be able to act as a second in command:
Christie fell further from favor in Romney's inner circle when his convention speech, which campaign officials had approved, dwelled more on the Chris Christie story than on the Mitt Romney story.

"His view was, 'They saw the speech before I gave it. They vetted it. They said it was fine,'" recalled a Romney adviser. "And the campaign's view was, 'We told him that we thought there were more opportunities for him to put in stuff about Mitt, and he didn't take the hint.' There was a lot of agitation that led to a lot of sarcasm and the kind of comments that people don't mean, but they kind of do."

The differences were papered over. Now, some Romney friends and donors are irked by Christie's embrace of Obama this week, which one referred to as "over the top."
You can read the full report at Politico.
h/t Politico
Have a tip we should know? tips@mediaite.com