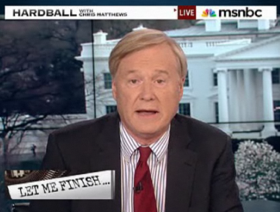 Chris Matthews knows a thing or two about gaffes. The shouty MSNBC host has suggested the American military is the President's "enemy," became questionably aroused by political events, and made off-color remarks about Barack Obama's race (and that was just this past year). So when Vice President (of Comic Relief) Joe Biden got a little too excited about the health care bill, Matthews rushed to praise him for his tendency to go off-script.
In his "Let Me Finish" segment yesterday, Matthews explains Joe Biden's mass appeal despite his inappropriate stream-of-consciousness approach to communication. Not surprisingly, it sounded a bit like Matthews was taking the criticism around Biden's "big f*cking deal" remark a little personally, and you couldn't help thinking Matthews was talking about himself when he explained "the great thing about Joe Biden's gaffes is their lack of malice."
He repeated the term when describing the "locker room idiom" (a great addition to our Joe Biden F-Bomb Euphemism Library), calling it "classic Biden: innocent embarrassment with no malice intent and, indeed, the opposite." His "Regular Guy" argument– that Biden was "Barack Obama's liaison to regular people" and an inspiration to Average Joes everywhere– solidified how much Matthews seems to identify with him. It also adds another good argument for why Matthews chose to travel to Jerusalem to chat with the Vice President when given the chance.
And just to clarify that Matthews' defense of Biden was not all based on the latter's charm, he cited the obvious to make his point that Biden is actually pretty good at his job, too: Obama didn't have to have him speak at the health care bill signing at all. In fact, most presidents in history would have hidden away their #2 to keep the limelight for themselves. Then he goes into a very satisfying list of presidential/veep relationships that were more awkward than Obama and Biden. Yes, of course there is a Spiro Agnew reference, and a description of Dick Cheney as "young Bush's disapproving headmaster."
Watch the clip below:
Have a tip we should know? tips@mediaite.com