Chris Rock Attacks Camera When Questioned About His Tea Party Comments
Chris Rock Attacks Camera After Questioned About His Tea Party Remarks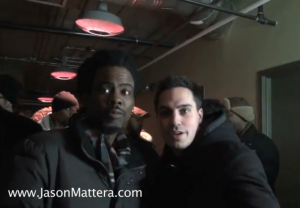 Apparently Chris Rock would rather not be pressed about his views on the Tea Party. Breitbart.com posted a video in which Rock, confronted about his past comments about the Tea Party, refused to answer and got aggressive with the camera. The comments in question were regarding racism in the Tea Party.
Jason Mattera, author of Hollywood Hypocrites: The Devastating Truth About Obama's Biggest Backers, confronted Rock about the comments he made in a 2011 interview that appeared in Esquire magazine — in response to a question about the election being "a shitstorm of hatred." He answered:
I actually like it, in the sense that — you got kids? Kids always act up the most before they go to sleep. And when I see the Tea Party and all this stuff, it actually feels like racism's almost over. Because this is the last — this is the act up before the sleep. They're going crazy. They're insane. You want to get rid of them — and the next thing you know, they're fucking knocked out. And that's what's going on in the country right now.
Mattera sought him out at the Sundance Film Festival and asked about "when you called the Tea Party insane and racist." Giving no response, Rock got aggressive and attacked the camera.
You may recall that in 2010, when Mattera spoke at CPAC, some noticed racial stereotypes in his criticism of the President Obama. A New York Times piece following the appearance said he adopted "a Chris Rock voice" when offering the slogan "Get your government off my freedom!" for his book Obama Zombies: How the Liberal Machine Brainwashed My Generation.
Take a look at the confrontation:

Have a tip we should know? tips@mediaite.com