Chris Wallace Cannot Believe Chris Christie Is Calling Trump's NYT Tax Bombshell a 'Good Story'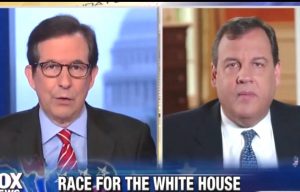 Chris Christie has had a rough week. He had to deny witness testimony that he was very aware of the lane closures that gridlocked the town of a mayor who refused to endorse him (aka "Bridgegate"). A train in the state he governs fatally derailed, leaving him flustered. Unflattering details about his early plans for his presidential campaign emerged. Oh, yeah, and Donald Trump, his preferred candidate, generated the usual amount of scandal and headlines, meaning Christie had to talk about it during his press appearances.
That brings us to today. Christie was on Fox News Sunday today to chat with Chris Wallace this morning and his responses to Wallace's questions about the New York Times's groundbreaking report about how Trump might not have been paying his federal income taxes for 18 years were more than the anchor could take.
"What it shows is what an absolute mess the federal tax code is!" Christie insisted before explaining that Trump demonstrated his ability to live by the title of his book, The Art of the Comeback. Christie called it a "good story" for Trump.
"Wait, wait wait… you're saying it's a good story for Donald Trump that he failed to pay any federal income taxes — first of all, that he took a billion-dollar loss — and that he failed to pay any federal income taxes for years. That's a good story?"
Christie reminded him that no one knows whether Trump paid his federal income taxes or not. That's true. He's the first candidate in modern history who has refused to release his tax returns.
Watch the entire exchange above.
[image via screengrab]
Have a tip we should know? tips@mediaite.com