Chris Wallace 'Disappointed' That Roger Ailes Went to Work for Trump Campaign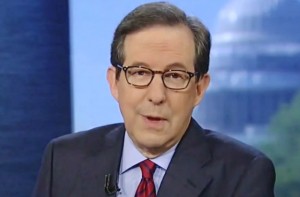 There was some liberal hand-wringing over the selection of Fox News' Chris Wallace as the moderator of last night's presidential debate. Some sites were warning of a "massive" conflict of interest because former Fox News Chairman & CEO Roger Ailes––Wallace's old boss––is advising Donald Trump.
Now, as you may have heard by now, Wallace received a great deal of plaudits from across the political spectrum––despite some minor complaints from more liberal pundits about the choice of topics.
However, it also turns out that the complaint about Ailes and Wallace's supposed connection was well overstated, because Wallace himself has not only not spoken with Ailes since he left, but he wasn't exactly happy about Ailes making the jump to Team Trump so quickly.
Wallace sat down for an interview with The L.A. Times today to reflect on the debate and he had this to say when asked about Ailes:
"I'm disappointed in Roger going to work for the Trump campaign," he said. "We have had to fight back for a lot of years against claims that we're an arm of the Republican Party. We aren't. Anybody who watches me on 'Fox News Sunday' knows that I'm not. I think it has given people who don't like Fox News in the first place something to talk about. It allows people to say, 'I told you so,' when it's not really true."
(For the record, Ailes was a political and media consultant for Republicans for years before Fox News was around.)
Wallace added, "I haven't talked to him since he left, and I won't talk to him."
The Fox News Sunday anchor went on to heap praise upon Rupert Murdoch, who has taken a more active role at Fox since Ailes' ousting, saying that "more than any other owners of these conglomerates that I've ever met, he really breathes the news."
[image via screengrab]
— —
Follow Josh Feldman on Twitter: @feldmaniac
Have a tip we should know? tips@mediaite.com
Josh Feldman - Senior Editor