Christian Farmers Sue Michigan Town For Banning Them From Farmers Market Over Marriage Views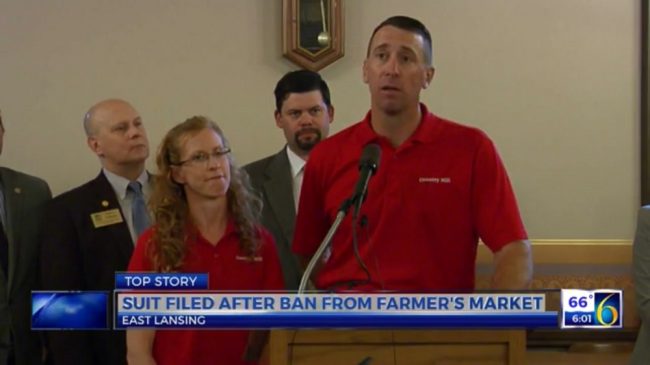 Steve Tennes filed a lawsuit against the government of East Lansing, Michigan on Wednesday, after he was banned from the city's farmers market. Tennes had previously revealed his refusal to book the marriage ceremonies of same-sex couples on his family's farm, which sits outside city limits.
WLNS-TV detailed the litigation in a Wednesday article. The farmer had replied to a Facebook inquiry in August 2016 and disclosed that "he and his family will not book same-sex couple weddings at their farm because it is against their religious views."
Tennes held a press conference with his attorney and local state lawmakers on Wednesday, and blasted East Lansing's government for violating his freedom of religion.
"The government shouldn't treat some people worse than others simply because they don't agree with their thoughts or their ideas," the farm owner said.
East Lansing, which is home to Michigan State University, replied to the lawsuit through City Manager George Lahanas, who cited the municipality's non-discrimination ordinance.
Lahanas says if Tennes were to allow same-sex couples to wed at his farm or simply not allow weddings at all…he and his family would be allowed back to the farmers market.
Conservative news outlet The Daily Signal also spotlighted the controversy in a Wednesday write-up. They pointed out that Tennes and wife are both military veterans, and that their family sold organic produce at the farmers market for seven years prior to their banning.
The Signal's report noted that after Tennes' Facebook post, a city official from East Lansing reportedly warned "that if Tennes tried to sell his fruit at the city's farmers market, it could incite protests" in the college town. Despite the warning, "Tennes did anyway, and no protest occurred, according to the lawsuit."
Conservative legal group Alliance Defending Freedom is representing the Tennes family, and filed the lawsuit with the U.S. District Court for the Western District of Michigan.
[image via screengrab]
Have a tip we should know? tips@mediaite.com