'Christian Metal Rocker' Sues Rachel Maddow For $50 Million, Network Calls Suit 'Baseless'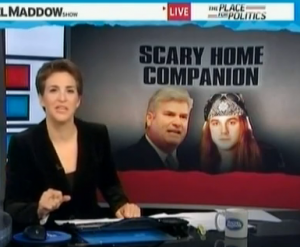 If you're not up on your Christian metal rock, you might not know Bradlee Dean, a Christian metal rocker who also runs the You Can Run But You Cannot Hide Ministry. He's also suing MSNBC's Rachel Maddow for 50 million dollars, but his lawyer says don't get the wrong idea, "money is not the issue." Why the lawsuit? According to a statement released by Dean's lawyer, it all started with a segment Maddow did on Mr. Dean, which the lawyer called defamatory–and Dean's support for Michele Bachmann. "The left wing media's effort to defame Dean is an obvious way to try to harm Bachmann's presidential prospects, who they fear and despise."
MSNBC, in a statement, says the suit is "baseless…and we stand by our reporting."
In a segment dubbed "Scary Home Companion," Maddow mocked Dean–and aired a comment Dean made on his radio show suggesting that "Muslims are calling for the execution of homosexuals in America" in a line of thinking that seemed to suggest that if America does not deal with homosexuality, God will use a "foreign enemy" to take care of the problem:
"If America won't enforce the laws, God will raise up a foreign enemy to do just that. That's what you are seeing today in America."
According to Dean's lawyer, Dean was, you know, just talking about politics and stuff:
It was Bradlee's intent to focus attention on the issue, not to advocate harm to anyone.

Despite the very clear disclaimer by Bradlee Dean on his ministries website and elsewhere regarding the false accusation that he was calling for the execution of homosexuals, MSNBC's Rachel Maddow and others seized on and accused Dean on her show of supporting the killing of homosexuals, as is the practice in some radical Islamic countries. This seriously has harmed Dean and the ministry, who pride themselves on respect and love for all people.
As the clip shows, however, Maddow did include Dean's disclaimer. Watch it here, from YouTube:
Have a tip we should know? tips@mediaite.com