Christie Equates Non-Romney Candidates With Obama: Be 'Very Leery' Of Congressmen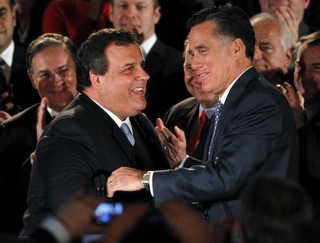 Chris Christie is rapidly emerging as Mitt Romney's most valuable surrogate and he came out swinging this week in Chicago, telling an audience at a rally to be "very leery" of members of Congress– which, of course, all the remaining non-Romney candidates are. Namely, he phrased it as putting "another member of Congress" in there, implying that much of President Obama's faults are beyond ideology and boil down to experience.
RELATED: Chris Christie To Student: 'I'm The Governor, Could You Just Shut Up For A Second?'
ABC News reports that Christie did admit that Congressmen "can be okay," but the nature of the office leaves them with no executive experience"
"In our Republican primary, let's be very leery, very wary of sending another member of Congress to the White House. Now see members of Congress, they can be okay, but they don't know the first thing most of the time about using executive authority. They don't know the first thing about getting things done," said Christie. "We don't need Ron Paul, we don't need Newt Gingrich , and we don't need Rick Santorum. We need an executive. We need Mitt Romney in the White House."
The "another" in this phrasing is key– simply saying "a member of Congress" would not evoke any memories of others, while "another" recalls both the President and the previous Republican primary winner, Senator John McCain. He made clearer towards the end of the speech, however, which of the two he thought was the inferior candidate, despite the similar legislative background. "Do we really want a failure in the White House?" he asked the crowd, adding that "one set of people" he didn't want to see elected even more than member of Congress were "community organizers."
He also praised Romney's skills in business– though there Romney is typically better equipped to defend himself. Christie admittedly has little experience in business, so his value comes in the skill sets that Romney lacks the most: charisma, shock value and ability to attack without the audience being turned off to his attitude (at least in New Jersey– there's a reason Christie wasn't stumping in Alabama).
Have a tip we should know? tips@mediaite.com