Christopher Hitchens' Final Interview: Catholic Church, Christian Charities, And Totalitarianism
Christopher Hitchens' Final Interview: Catholic Church, Christian Charities, And...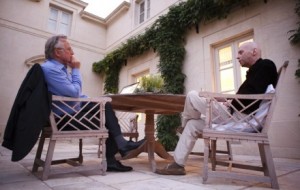 Before his death last week, writer Christopher Hitchens sat down for a final interview with fellow atheist Richard Dawkins for British publication New Statesman. Obviously, their skepticism about faith came up frequently in the conversation, but they also touched upon a variety of other subjects that Hitchens took on over his life.
Excerpts from the interview have been published on the magazine's website, and they illustrate that even leading up to his death, Hitchens never wavered from his beliefs. Here he is on the relationship between the Catholic Church and Nazism.
"[I]f you're writing about the history of the 1930s and the rise of totalitarianism, you can take out the word 'fascist', if you want, for Italy, Portugal, Spain, Czechoslovakia and Austria and replace it with 'extreme-right Catholic party'.

"Almost all of those regimes were in place with the help of the Vatican and with understandings from the Holy See. It's not denied. These understandings quite often persisted after the Second World War was over and extended to comparable regimes in Argentina and elsewhere."
Hitchens recalled a fiery debate he had with former prime minister Tony Blair over not just religious faith, but also about the effectiveness of Catholic charities.
"You can only have one aim per debate. I had two in debating with Tony Blair. The first one was to get him to admit that it was not done – the stuff we complain of – in only the name of religion. That's a cop-out. The authority is in the text. Second, I wanted to get him to admit, if possible, that giving money to a charity or organising a charity does not vindicate a cause.

"I got him to the first one and I admired his honesty. He was asked by the interlocutor at about half-time: "Which of Christopher's points strikes you as the best?" He said: 'I have to admit, he's made his case, he's right. This stuff, there is authority for it in the canonical texts, in Islam, Judaism.'

"At that point, I'm ready to fold – I've done what I want for the evening."
Finally, Hitchens has been criticized by both the left and right for his views, and it has not been easy to pin down exactly where he stands. Dawkins asked him about this in the interview, and Hitchens explained how everything he has stood up for has been consistent with one belief.
"I have one consistency, which is [being] against the totalitarian – on the left and on the right. The totalitarian, to me, is the enemy – the one that's absolute, the one that wants control over the inside of your head, not just your actions and your taxes. And the origins of that are theocratic, obviously. The beginning of that is the idea that there is a supreme leader, or infallible pope, or a chief rabbi, or whatever, who can ventriloquise the divine and tell us what to do."
h/t New Statesman
Have a tip we should know? tips@mediaite.com
Josh Feldman - Senior Editor