Christopher Titus Jokes About Assassinating Sarah Palin, Apologizes On Facebook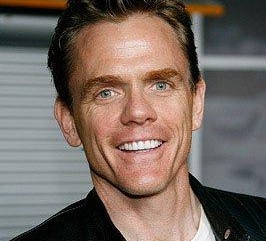 In an appearance on The Adam Carolla Show Monday, stand-up comic and former sitcom star Christopher Titus sparked outrage by joking that if Sarah Palin became president, he would "hang out on the grassy knoll all the time, just loaded and ready."
Titus later apologized via Facebook, first to the Kennedy family, then to "Ms. Palin's family," and asked for people to "stop the death threats." (h/t The DC)

Here's audio of Titus' remarks on The Adam Carolla Show:
Titus' apology included an explanation of his joke, and while he didn't direct his apology at Palin herself, he did manage to take a few more shots at her:
While sitting in a comedy club with another comedian doing a podcast after listening to Sarah Palin's stupid comments about Paul Revere–something we all learned about in the first grade– I popped off. More than anything, I made a joke about a horrible tragedy that befell a great President. To the Kennedy family, my heartfelt apologies. To Ms. Palin's family, this would infuriate me if it were said about my family. Apologies to you as well.

The comment was based on the fact that America has set the bar so low with what we accept as a possible leader. Just imagine Sarah Palin sitting in a negotiation with Putin, Ahmadinejad or Hu Jin Tao. Let's all take a deep breath, and stop the death threats. Apologies all around.

Comedy club, comedian, bad joke. Common sense would tell anyone that I was not actually threatening to kill anyone.

I wish this many people had gotten fired up in May when Insight Youth Project held a comedy show to raise money to get homeless teens off the streets. It was like pulling teeth to get people to buy tickets, and a lot of seats sat empty while Dana Carvey, Kevin Nealon and Billy Gardell performed.
Prior to his apology, Titus tweeted a reference to Palin's "Don't retreat, reload" comments, and to criticism of the former Alaska Governor in the wake of January's Tucson tragedy. The net effect is that Titus seems to be sorry that people are mad at him.
Palin has yet to respond to Titus via her own Facebook page or Twitter feed, but I recommend she tweet, "Not a fan of Titus. Was always more partial to his partner, Ronicus," before some late-night comic does it.
Have a tip we should know? tips@mediaite.com