Leaked Email: Clinton Ally Polled Voters About Obama's Ties to Muslim World, Use of Cocaine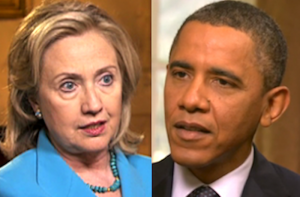 One of the newly-released hacked emails from Clinton ally John Podesta show that he and other Hillary Clinton allies polled voters in 2008 to find out their views on several negative attacks on Barack Obama, including the fact that he has a Muslim father.
In a January 2008 email chain with Democratic polling firm Greenberg Quinlan Rosner Research, Podesta and fellow Clinton ally Paul Begala looked over some of the negative attacks that were being tested against Obama. Among them, "Obama's father was a Muslim and Obama grew up among Muslims in the world's most populous Islamic country."
Other polled attacks included the fact that Obama:
"was the only candidate at a recent event not to cover his heart during the national anthem and he has stopped wearing an American flag pin."
"is ranked as one of the ten most liberal members of the Senate because of his support of issues like gay adoption."
"supports giving driver's licenses to undocumented immigrants"
"described his former use of cocaine as using 'a little blow.'"
On two of the issues polled (gay adoption and drivers licenses for illegal immigrants), Clinton now supports Obama's 2008 position.
When asked by The New York Post about the email, Podesta insisted that he was polling voters in order to help Obama. "That was a draft poll questionnaire that tested potential right-wing attacks on Obama, to help prepare to defend him," he said, noting that he had no official role in the 2008 Clinton campaign.
[Image via screengrab]
—
>>Follow Alex Griswold (@HashtagGriswold) on Twitter
Have a tip we should know? tips@mediaite.com