Clinton Botches Question Over African American Friends, Calls Them Her 'Crew'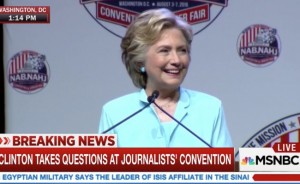 Former Secretary of State Hillary Clinton may be the Democratic party nominee, and therefore presumably the candidate most aligned with the issues important to minority voters, but that doesn't mean she can't botch a good ol' question about diversity like the rest of 'em.
Speaking Friday at the NABJ/NAHJ Conference in Washington, Clinton fielded a question from Kevin Merida, the Editor-in-Chief of The Undefeated, the ESPN-helmed site providing a voice focusing on the intersection of race and sports. Merida's question was a simple one:
What is the most meaningful conversation you've had with an African American friend?
As for her answer? Oh boy.
"Oh my gosh," began the former Secretary of State, scrambling for the answer that never came. "Can I tell you that I am blessed to have a crew of great friends," an opening comment that seemed to elicit nervous laughter from the gathered crowd.
She said to the NABJ/NAHJ crowd, "And I've had two Chiefs of Staff who were my African American women friends," she continued, identifying Maggie Williams and Cheryl Mills. "I have been blessed to have people by my side in politics… so I really have had a lifetime of friendship going back to my college years when one of my best friends was an African American student."
"I cant compress into one conversation," she continued, saying at one point — and this is true — "They've tried to expand my musical tastes," a remark that drew awkward applause from the crowd.
"I can't really pick one conversation out of 50 years of conversations, and I don't want to embarrass my friends," she said before shouting out some of her African American peers in the house, like recently-promoted DNC interim chair Donna Brazille, who got a far larger applause than anything Clinton said.
"I guess I'll leave it at that. I'm going to respect the cone of friendship silence," she concluded.
As for her terribly weak response: really Madam Secretary? You can't name a single influential conversation you've had with a person of color? This is just as bad as the time she botched a question on white privilege, demonstrating again that although she may be the Democratic candidate, she's apparently about as blind to race as any other out-of-touch politician.
Though I have to say, I'm dying to know what songs black people have tried to get Hillary Clinton to listen to.
—
J.D. Durkin (@jiveDurkey) is an editorial producer and columnist at Mediaite.
[image via screengrab]
Have a tip we should know? tips@mediaite.com