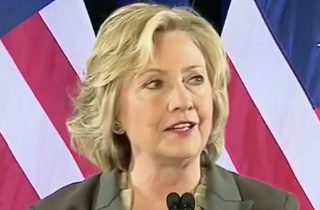 Hillary Clinton declined again to apologize for her decision to use a private email account and server while serving as the nation's top diplomat.
In a new interview with the Associated Press published Monday — her second national sit-down in four days — the former secretary of state repeated, as she has on multiple occasions, that "what I did was allowed," referring to her exclusive use of a personal email account and server to conduct State Department and personal business. Clinton also said she does not believe the controversy surrounding her emails has damaged her campaign in any way.
"It's a distraction, certainly," Clinton told the AP. "But it hasn't in any way affected the plan for our campaign, the efforts we're making to organize here in Iowa and elsewhere in the country."
On Friday, Clinton was asked by NBC's Andrea Mitchell if she wanted to apologize for what Clinton herself has said was a poor choice in using one email account and server for both work and personal correspondence. Clinton declined to apologize for that decision, but said she is "sorry that this has been confusing to people and has raised a lot of questions," adding, "there are answers to all these questions."
The Democratic frontrunner also insisted that the controversy has not affected her personally, and acknowledged the need to explain her email setup "in as many different settings as I can." Addressing the technical aspects of her server, which she turned over last month to the FBI, Clinton said she doesn't know "anything technical" about them, adding she has been told that the server "doesn't have anything on it." She continued: "But for safekeeping, [I turned] it over as part of the security review."
The former New York senator's favorability and honesty ratings have sharply declined in recent months, as voters question whether she is telling the truth about her email setup. In her Friday interview with Mitchell, Clinton said the falling poll numbers "certainly" bother her, adding she is confident that voters will believe her once the campaign runs its course.
[Image via screengrab]
— —
>>Follow Andrew Desiderio (@desiderioDC) on Twitter
Have a tip we should know? tips@mediaite.com