Clinton Spox Releases Statement on Use of Private Email Address at State Dept.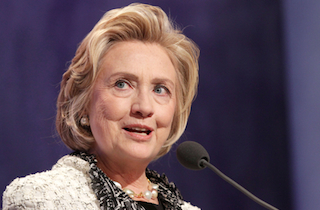 Hillary Clinton spokesperson Nick Merrill released a fuller statement Tuesday morning on last night's New York Times' report that Clinton used a personal email address while Secretary of State, in possible violation of federal federal requirements on government agency correspondence.
Merrill was quoted in the Times piece, but released his full statement Tuesday in which he said previous Secretaries of States had used private email accounts and appeared to place the onus on outdated State Department regulations:
Like Secretaries of State before her, she used her own email account when engaging with any Department officials. For government business, she emailed them on their Department accounts, with every expectation they would be retained. When the Department asked former Secretaries last year for help ensuring their emails were in fact retained, we immediately said yes.

Both the letter and spirit of the rules permitted State Department officials to use non-government email, as long as appropriate records were preserved. As a result of State's request for our help to make sure they in fact were, that is what happened here. As the Department stated, it is in the process of updating its record preservation policies to bring them in line with its retention responsibilities.
The Times report noted that Merrill "did not address emails that Mrs. Clinton may have sent to foreign leaders, people in the private sector or government officials outside the State Department."
Also in question is whether the emails were in fact retained, whether the Clinton camp had handed all of them over to the State Department, and whether classified information was made vulnerable due to the unsecured address.
[h/t Greta]
[Image via JStone / Shutterstock.com]
——
>> Follow Evan McMurry (@evanmcmurry) on Twitter
Have a tip we should know? tips@mediaite.com