CNN Asks if the KKK Can 'Rebrand,' Seriously
McMurry: CNN Asks if the KKK Can 'Rebrand,' Seriously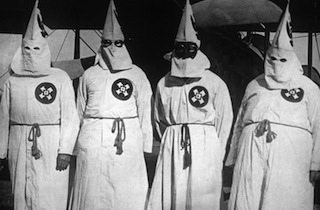 Somebody had to ask it: can the Ku Klux Klan rebrand itself as a civic organization to make its message more palatable to a subsection of the American public that digs racism but rejects violence?
Whoops, that was a typo. Nobody had to ask it. Nonetheless, in the wake of last Sunday's shooting at a Jewish Community Center by a KKK member, some organizational brethren attempted to distance themselves from alleged shooter Frazier Glenn Miller, insisting he had "gone rogue" and did not represent the modern KKK that eschews violence and bills itself as sort of racist Elks Lodge. Apparently taking these tools at face value, CNN actually asked marketing experts if the KKK could shed its cross-burning past.
RELATED: Mayor Who Spoke Favorably About JCC Shooter Faces Angry Constituents, Impeachment
To the marketing experts' credit, their answer was a resounding no. And to the article's credit, further down it becomes an informative piece on the splintering of hate groups that often as not spend their time fighting each other as they do their various race wars.
Nonetheless, the world could have done without these insights:
From a sheer marketing perspective, the lack of central leadership poses more problems for the KKK if it's serious about revamping its image. Just look at the Catholic Church, Ries said.

"The KKK doesn't have a Pope. Look at what that guy has done. You have to have a leader like that to make people believe a change has happened," she said.

Without a clear leader, marketing experts said, crafting and conveying a spin-friendly message is impossible.
The point is that the KKK doesn't have a spin-friendly message. Isn't it?
Optional comedic accompaniment to this post (NSFW):
[Image via screengrab]
——
>> Follow Evan McMurry (@evanmcmurry) on Twitter
Have a tip we should know? tips@mediaite.com