CNN Correspondent Regrets Pro-Hezbollah Tweet, But Doesn't Apologize For Stance On Fadlallah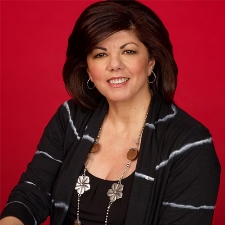 Following a controversial tweet by CNN Senior Editor of Mideast Affairs Octavia Nasr, she has taken to CNN.com to further expand on her 140-character thought.
Her praise of Hezbollah leader Sayyed Mohammed Hussein Fadlallah who died over the weekend forced the explanation, but noticeably no apology. And now CNN says it is a "serious matter and will be dealt with accordingly."
Nasr's initial tweet mourning the death of Fadlallah said, "Sad to hear of the passing of Sayyed Mohammed Hussein Fadlallah… One of Hezbollah's giants I respect a lot." It was almost immediately called out by several sources, including Newsbusters and the Jerusalem Post. Also today the Simon Wiesenthal Center ("one of the largest international Jewish human rights organizations") formally denounced the remarks and called for CNN to take action.
CNN and Nasr have responded now – let's deal with Nasr first. In a lengthy blog post expanding on her initial tweet, she concludes Fadlallah was "revered across borders yet designated a terrorist. Not the kind of life to be commenting about in a brief tweet. It's something I deeply regret." Throughout the entire blog post, Nasr clearly does not call Fadlallah a terrorist. Hezbollah, she writes, was "declared a terrorist group," and "Fadlallah himself was designated a terrorist." She also stressed his fallout with Hezbollah in recent years, because of "what many considered a more moderate voice."
But here's the crux of her argument about why she respects Fadlallah:
It was an error of judgment for me to write such a simplistic comment and I'm sorry because it conveyed that I supported Fadlallah's life's work. That's not the case at all…

I used the words "respect" and "sad" because to me as a Middle Eastern woman, Fadlallah took a contrarian and pioneering stand among Shia clerics on woman's rights. He called for the abolition of the tribal system of "honor killing." He called the practice primitive and non-productive. He warned Muslim men that abuse of women was against Islam…

This does not mean I respected him for what else he did or said. Far from it.

It is no secret that Sayyed Mohammad Hussein Fadlallah hated with a vengeance the United States government and Israel. He regularly praised the terror attacks that killed Israeli citizens. And as recently as 2008, he said the numbers of Jews killed in the Holocaust were wildly inflated.

But it was his commitment to Hezbollah's original mission – resisting Israel's occupation of Lebanon – that made him popular and respected among many Lebanese, not just people of his own sect.
It certainly explains her tweet further, but it doesn't change her classification of Fadlallah, and it's a classification many would strongly disagree with. Meanwhile a CNN spokesperson makes it clear this matter is not resolved:
It was an error of judgment for Octavia Nasr to write such a simplistic tweet about the death of Sayyed Mohammad Hussein Fadlallah. In a statement posted at CNN.com (http://bit.ly/adrp95) Octavia has clarified what she meant. CNN regrets any offense her Twitter message caused. It did not meet CNN's editorial standards. This is a serious matter and will be dealt with accordingly.
Will be dealt with accordingly. Notably not 'has been' dealt with. This isn't over yet for Nasr, and likely not for CNN. We'll see what comes of this – and the next time Nasr appears on air.
—–
» Follow Steve Krakauer on Twitter
Have a tip we should know? tips@mediaite.com