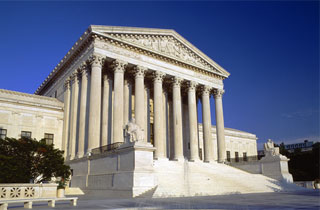 More good polling news for President Barack Obama from CNN today: the two major Supreme Court cases decided last week enjoy broad popularity among the public, an early affirmation of the administration's stances on health care and same-sex marriage.
A CNN/ORC poll found 63% of respondents approved of the Supreme Court's 6-3 decision to ratify the Affordable Care Act's federal subsidies against a tortured reading of the law, the biggest existential threat to the president's signature domestic legislation since the constitutional challenge over the individual mandate two years ago.
Meanwhile, 59% approved of the Supreme Court's decision to establish marriage equality as a constitutional right, a landmark ruling in the progression of gay rights that led to apocalyptic denunciations from the right. Some clerks in southern states have refused to issue licenses to same-sex couples, citing legal ambiguities and religious objections; the popularity of the decision could pressure dissenting justices to give up the ghost.
Both decisions enjoyed wide support from independent voters while remaining unpopular with Republicans, setting up a difficult maneuver for GOP candidates seeking to earn their party's nomination without alienating the general electorate.
The Court's two rulings also likely contributed to a five-point bump in Obama's approval ratings, giving the executive his highest ratings in two years.
Nonetheless, the Court paid a price for the decisions by appearing increasingly partisan, despite following the rulings with some more conservative decisions on coal regulations and capital punishment.
"The 37% of Americans who say they see the Court as too liberal is the highest share to say so in CNN polling dating back to 1993," CNN reported. 20% viewed the nine justices as too liberal, with 40% finding the porridge just right.
[h/t CNN]
[Image via Shutterstock]
——
>> Follow Evan McMurry (@evanmcmurry) on Twitter
Have a tip we should know? tips@mediaite.com