CNN Sends (and Deletes) Tweet Implying Only Dems Prayed at Congressional Baseball Game
On Thursday night, both Democrats and Republicans came together for a fun night of baseball and raised over $1 million in charity in the wake of the GOP shooting that happened on Wednesday.
The event was filled with numerous touching moments, including when all the players came together for a prayer right before the game started.
However, CNN tweeted as if only Democrats came to pray (below is a screen grab from the now-deleted tweet).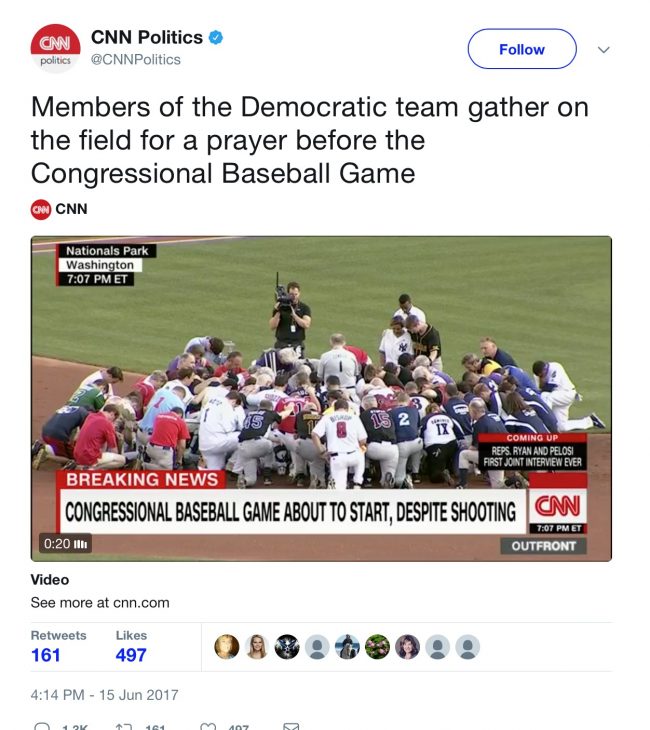 And Twitter users took notice.
These are Republicans and Democrats but that would muddle the CNN narrative of Only Dems are Good https://t.co/netzNJUeoZ

— Comfortably Smug (@ComfortablySmug) June 16, 2017
Those are both parties praying on the field. Unreal that CNN will go THAT far to distort the truth.

— Patrick Henry (@PatrickHenrySOL) June 16, 2017
FAKE NEWS pic.twitter.com/bxND8oV2Iq

— كافر0331 (@Grunt0331Gunz) June 16, 2017
Both teams. https://t.co/llkFDlFJyo

— Guy Benson (@guypbenson) June 16, 2017
BOTH sides, not just Democrats. Subtle propoganda like this is why the country is so divided and you're doing it on purpose. #CNNisISIS

— ubas (@wakeywakey10) June 16, 2017
It wasn't until over 12 hours later that CNN deleted the tweet and posted this correction this morning:
Members of both teams gather on the field for a prayer before the Congressional Baseball Game (corrects who prayed) https://t.co/OQGigBrpVQ

— CNN Politics (@CNNPolitics) June 16, 2017
Have a tip we should know? [email protected]