CNN's Choice Not To Feature Conway During Yesterday's Shows Was Reportedly Because Of 'Credibility' Issues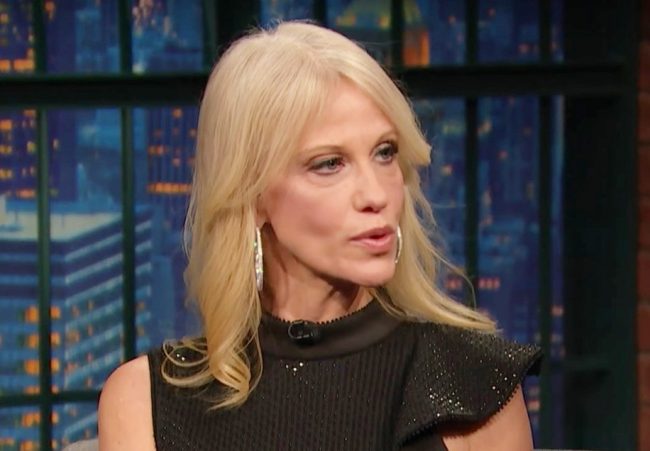 When it was announced that Mike Pence would be doing the Sunday shows yesterday, political observers quickly noticed that the Vice President wasn't slated to appear on CNN. Reports swirled yesterday that the White House tried to offer up Kellyanne Conway in his place. Reports also swirled that CNN said, "nah."
Some cheered that decision, in keeping with the recent calls to keep Conway off of cable news. For weeks, the demand for her to be penalized  for lying and deflecting has grown, but in the wake of her making up an entire massacre to sell the idea of Donald Trump's travel ban on seven countries, the demand for her to be benched has hit an all-time high.
It looks like CNN has heard the demands and is meeting them. According to the New York Times yesterday, Conway not being put on the news network yesterday was an issue of "credibility." Look:
Some, like the New York University journalism professor Jay Rosen, were calling upon the television networks to stop booking her. And CNN declined to have her as a guest on Sunday — in part because the Trump administration offered her in lieu of Vice President Mike Pence, but also because of what the network told me were "serious questions about her credibility."
There is power in dissent, then. Calls for Conway to be rejected by cable news have seemingly been heard, as were the hashtag movements #BoycottUber, which led to Uber's CEO removing himself from Trump's advisory council, and #GrabYourWallet, which was launched months before Nordstrom announced they were cutting ties with Ivanka Trump.
[image: screengrab]
Have a tip we should know? tips@mediaite.com