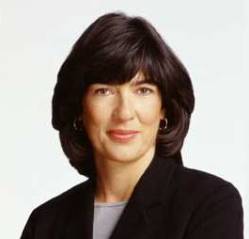 The guest hosting carousel at This Week continues Sunday with political analyst Matthew Dowd.
Now Politico reports on a new name added to the growing list of possible anchors – CNN's Christiane Amanpour.
Michael Calderone reports:
Still searching for a permanent host for "This Week," ABC News is in talks with Christiane Amanpour, the CNN foreign correspondent known more for globe-trotting reporting than talking politics within the Beltway.

Amanpour, through a CNN spokesperson, declined to comment, but sources with knowledge of the hiring process say she's now in the mix of internal and external candidates.
ABC wouldn't comment either but told Calderone the network "talked to lots of people inside and outside." That's an understatement. So far, my money's still on Terry Moran, with Jake Tapper as the #2 choice. But from within ABC, Jon Karl, Elizabeth Vargas and Barbara Walters have all guest hosted, and Gwen Ifill's name has been thrown out as a possibility as well (so has Ted Koppel's but that appears to no longer be an option).
We asked former MSNBC General Manager and current disclosure-worthy interviewee Dan Abrams for his take on a potential outsider like Amanpour taking the job:
ABC is in a tough spot. At every network, the Washington team believes they "know politics" and have better political contacts than anyone else. So if they go outside of ABC News for This Week, they may inherit a great host along with a major morale problem.
Calderone tweets Tapper will be back as anchor on March 14. And it continues…
—–
» Follow Steve Krakauer on Twitter
Have a tip we should know? tips@mediaite.com