CNN's Cuomo Slams Giuliani: Your 'Facts Are All Over the Place' Because You're 'in Trumpland'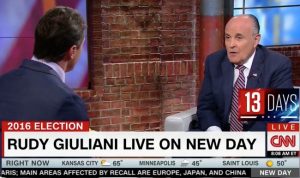 Back in August, former New York City Mayor Rudy Giuliani and CNN's Chris Cuomo exchanged jabs in an epic 32-minute, non-stop interview. As I wrote that morning, "The CNN cameras would not pull away from the interview until 8:36 a.m., 32 minutes after the start of what would be a spiraling, combative, but ultimately very respectful conversation between two brash and confident New Yorkers."
The two were at it again Wednesday morning, and while it didn't quite break their previous record for length (this one clocked in at a measly :20 minutes), the interview on CNN's New Day packed quite a punch, with the two going at it in their signature styles of one-upmanship and constant interruption.
Cuomo pressed Mr. Mayor on his recent line of harsh rhetoric aimed at Hillary Clinton, most notably that he would like to see her in an orange prison jumpsuit. Additionally, Giuliani has publicly distanced himself from the decision of FBI Director James Comey not to recommend charges against Clinton for her handling of classified information. "It seems like you are feeding the Trump argument that it was fixed, that it was rigged, that James Comey should have brought a case and he didn't — on purpose," prompted Cuomo.
Part 1:

Part 2:

Giuliani balked at the suggestion, but dipped his toes into other realms of the conspiratorial, citing the fact that a political organization of Virginia Governor (and close Clinton confidante) Terry McAuliffe gave half a million dollars to the campaign of an FBI official's wife. Although a spokesman for the governor denied any wrongdoing, Giuliani was all aboard the crazy train, alleging impropriety.
"I mean Rudy! I have looked up to you my entire life because you're so accurate," said Cuomo as the exchange got heated. "And all of a sudden you're in Trumpland, and the facts are all over the place."
As Giuliani dug deeper into the rabbit hole to make his case, Cuomo asserted, "You're not even close to connecting anything yet. You're not close."
Giuliani pivoted at one point to slam Cuomo and, presumably, CNN for their treatment of the GOP nominee, saying "You guys are so darn unfair to Trump!" Cuomo appeared incredulous with just how loose and fast Giuliani has become when it comes to the facts of a case.
Alisyn Camerota joked as the segment wrapped, "I feel like I just lived through Thanksgiving Day at the Cuomo house."
Watch the spiraling interview above via CNN in two parts.
—
[image via screengrab]
Have a tip we should know? tips@mediaite.com