CNN's Dana Bash Grills Corey Lewandowski on Details of Exit From Trump Campaign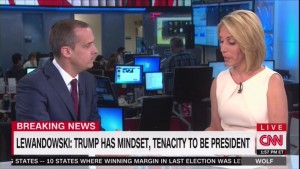 In a pair of  interviews Monday afternoon with MSNBC and CNN, former Trump campaign manager Corey Lewandowski burned no bridges, drawing a glowing portrait of the state of the Trump campaign, averring his support for his former boss, and asserting that he had "no regrets" and that it had been a "great privilege" and "honor" to have helped lead the campaign.
He pledged his continued support for Donald Trump and said that he would still be open to a role helping his campaign in the future.
Here is the CNN interview.
In a subsequent interview with CNN's Dana Bash, he said that voters had a "binary choice" between Trump and presumptive Democratic nominee Hillary Clinton, and it was no contest for him. Trump, he said, was "probably the best speaker I've probably ever seen as a presidential candidate."
"If Donald Trump wins, that's good for Corey Lewandowski," he told Bash.
Bash commented that throughout the interview Lewandowski had "painted a very nice picture of the Trump campaign."
When asked about reports that security had escorted him from Trump Tower, Lewandowski told Bash, "It doesn't work like that… there's a protocol in place." When pushed further, Lewandowski clarified that he had left the building with "a friend from the office," not security.
He praised the Trump campaign for its success at capturing the nomination with a much smaller operation than other GOP contenders. "We are leaner, meaner, more efficient. We get bigger crowds," he said.
He brushed off Bash's reference to reports of the campaign's dismal fundraising efforts as having been exaggerated.
Asked to respond to reports that Lewandowski represented Trump's "worst instincts," Lewandowski said, "I'm a very straight shooter, much to my own detriment on many occasions," and added that he had difficulty lying. "I have no regrets with this campaign," he said.
You can view the MSNBC interview below:

Have a tip we should know? tips@mediaite.com