CNN's Don Lemon: Ignore 'False Narrative' of 'Both Sides'—Tea Party Shut Down Gov't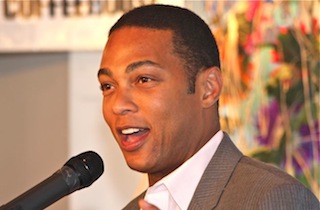 Following a government shutdown induced by an argument over the Affordable Care Act, CNN host Don Lemon asked listeners of Tom Joyner's radio show to join him in a thirty-day regimen to become healthier as a way to better preclude dealing with the unpredictable complications of America's health care system.
"I am so mad this morning," Lemon began. "As I've been watching lawmakers over the last few weeks debate the issues that led to the shutdown—you know what that is, health care—I felt helpless and I felt betrayed. One, because of the false narrative that both sides caused this shutdown. That's not true. It was caused by Republicans, mainly tea party Republicans."
Though he affirmed that ObamaCare will make health care more affordable and accessible, he then advised, "The best way not to encounter America's health care system is not to have to encounter it."
RELATED: Fox Guest Fights Bob Beckel: Gov't Shutdown 'Did Tea Party a Huge Favor'
"Today, I am making a pledge to myself and to you, and I hope you join me, to do whatever is in your control, big or small, to make your health, your life better."
Lemon's five recommendations included eating better, going for a check-up, exercising, skipping the sugary sodas and juices, and cutting out alcohol.
"No more vodka sodas for thirty days," Lemon pledged, earning a "Dang!" from one of the co-hosts.
"I know that some things are beyond our control, some illnesses are beyond our control, we get sick, we don't know why," Lemon said. "But let's pledge to do whatever we can to avoid those high medical bills."
Listen to the whole segment below, via Tom Joyner:
[Image via Project Q Atlanta]
——
>> Follow Evan McMurry (@evanmcmurry) on Twitter
Have a tip we should know? tips@mediaite.com