CNN's Gloria Borger and Pamela Brown Talk About Their Exclusive Nominee Documentaries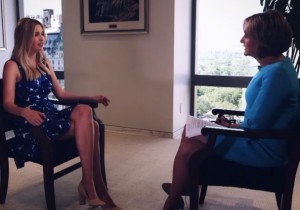 On Monday, September 5, CNN will air their documentaries about the presidential nominees. This in itself isn't exactly groundbreaking. After all, these are a staple of CNN's election programming. What is remarkable about them this time around, however, is that each will be a whopping two hours long. Why? Well, Donald Trump and Hillary Clinton aren't the typical presidential candidates. One has no history in politics whatsoever and the other is making history by being the first woman to be given a major party's nomination. To tell these stories, CNN had to do interviews — lots and lots of interviews. In fact, between the two documentaries, they spoke to over 60 people!
To get the best information possible out of all 60, CNN called in two of their top correspondents. For Unfinished Business: The Essential Hillary Clinton, they enlisted Justice Correspondent Pamela Brown and for All Business: The Essential Donald Trump, they brought on Chief Political Analyst Gloria Borger.
Both were obviously excited when they took a few minutes to talk about their respective documentaries with us. Brown said she was "so honored" to be asked to do the Clinton documentary by Michael Bass, Executive Vice President of Programming. She revealed that as soon as she got the call, she started thinking of what new information she could find that hadn't already been revealed throughout Clinton's decades in the public eye. What she learned, she said, is that Clinton's friends and family see her as "a complex person" and "a do-gooder" who is "driven by her faith" and sees politics as the best way to do the most good for the greatest amount of people.
Borger said she had the same goal and wanted to learn all she could about Trump's early life. What made telling his story unique, she said, was that unlike so many of the figures she's profiled in the past, his entire life hasn't been about politics. There were successes and failures, marriages and bankruptcies, and all sorts of unexpected twists and turns to cover.
"It's interesting to me as a political journalist because when I was doing the documentary about Mitt Romney in 2012, a lot of his life was about politics. When doing a documentary on Donald Trump, you start to understand that his life hasn't been about politics and that the people who knew him back then say that this isn't someone who changed himself for politics. He is who he is."
The people who knew him (and Clinton!) back in the day will feature heavily throughout the documentaries. Brown even traveled to Arkansas to interview people who knew Clinton when she was just a young up-and-comer.
The candidates appear in the documentaries both through archived and more current footage, as do their children. Clinton was interviewed, as was daughter Chelsea Clinton, and though Trump declined to be, his children Eric Trump, Donald Trump, Jr., and Ivanka Trump sat for interviews as well. Clips of Clinton giving a speech at Wellesley College during her days as a university student, for instance, will be heard. Clinton even sat for an interview for the documentary, no doubt leading to some fascinating reveals. Notably, Brown was able to get Clinton to reveal what her hardest days in the White House were. She said Clinton was pretty clear that the hardest days had nothing to do with husband Bill Clinton's impeachment proceedings or with her battle for healthcare reform, but she said to find out what Clinton said, we'll just have to tune in Monday!
Borger said that her ultimate goal with the documentary was for viewers "to come away with a sense of who Donald Trump is as they look at the breadth of his life — from when he was a young kid, to a brash, young, successful businessman in New York, to his life in business, and the risks he took, his success, his failures — and get a kind of sense of the man in full."
Brown agreed, saying that while she's aware people will take different parts of the project to heart, she hopes that people will be able to see "who the real Hillary Clinton is" outside of the narratives provided by varying media outlets.
Unfinished Business: The Essential Hillary Clinton airs at 8:00 p.m. EST on Monday, September 5, with All Business: The Essential Donald Trump airing after at 10:00. They will air again on Saturday, September 10, in reverse order with All Business at 8:00 p.m. EST and Unfinished Business at 10:00. They will be on-demand via cable VOD and CNNgo on Tuesday, September 6.
Correction: An earlier version of this piece indicated that both candidates sat for interviews. Hillary Clinton and Chelsea Clinton both sat for interviews, as did Eric, Ivanka, and Donald, Jr., but Donald Trump himself did not. A statement from CNN reads as follows:
Trump declined to take part in the documentary, despite multiple requests.

[image via screengrab]
Have a tip we should know? tips@mediaite.com