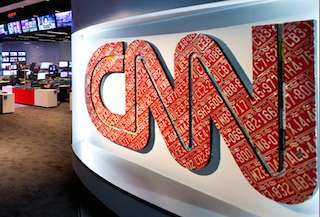 Things have been looking up recently for CNN, mostly thanks to a surge of viewers tuning in every night over the past month for constant updates on the search for the missing Malaysia Airlines Flight 370. In March, the network moved into second place past MSNBC, but the even better news came on the digital side with its web properties having their best month ever with a whopping 3.6 billion page views and 266 million global video starts.
In order to capitalize on that success, the network has just announced the launch of CNN Digital Studios, which will produce video intended solely for the web in an effort to bulk up online ad revenue. The venture's first big project will be a new morning show designed to be shared on Twitter called "Your 15 Second Morning." The series will likely resemble NowThis News, the web-native platform that produces very short video news pieces and shares them through social media.
Chris Berend, CNN's vice president for Video Content Development, told Mediaite by phone that the show will "live natively on Twitter," meaning it won't use an outside application like Instagram and users will not need to leave the platform in order to watch. He said it is being designed "specifically for Twitter users who are checking their phones first thing in the morning" and represents the network's attempt to "communicate directly and quickly with the people who are next phase of audience growth" for CNN. "We're going to them where they are instead of asking them to come see us," Berend added.
As for whether you can expect to see any of CNN's television personalities on "Your 15 Second Morning," Berend said he would "never say never," but stressed that "the story is the talent" in this format and he wouldn't want anything to get in the way of that. And while the pieces will likely include audio voiceover, they should be able to get the message across even if you have the sound turned off on your phone.
In addition to the 15 second morning news show, CNN Digital Studios plans to present "Related with Dave Franco," a co-production with Funny or Die featuring the brother of James Franco and focusing on celebrity siblings, "Brutally Honest" with Kelly Wallace, "Live to 100" with Sanjay Gupta and "Crossfire Reloaded," featuring that show's hosts taking on topics in a more casual way than they do on TV. For instance, last month CNN released this video of S.E. Cupp joking around about recreational marijuana in Colorado. "Let's talk about weed, man, because that's fun."
Watch video below, via CNN:
[photo via CNN]
— —
>> Follow Matt Wilstein (@TheMattWilstein) on Twitter
Have a tip we should know? tips@mediaite.com