CNN's Panel Explains How Feasible It'll Be For Post-Election Trump to Start TV Channel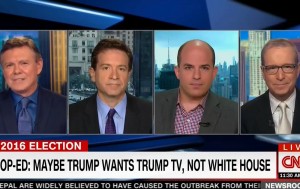 Two days ago, the Los Angeles Times ran an op-ed called "Maybe Trump's not trying to win the White House — he's trying to start Trump TV." Levi Tillemann and Julian E. Zelizer made a pretty compelling case, explaining that with the big campaign shake-ups lately, it looks like Donald Trump is planning for a future beyond a win in November. Connor Friedersdorf made similar claims in a piece for the Atlantic yesterday.
They argued that with the addition of Breitbart's Steve Bannon to the campaign and with the rumored addition of former Fox News CEO Roger Ailes, Trump doesn't look like he's working to win over swing states. He looks like he's working on doubling down on pleasing his red-state supporters. To them, that translates into an interest in launching a media company after losing in November. Zelizer and the Atlantic's Ron Brownstein joined Brian Stelter and Martin Savidge to discuss the idea today on CNN"s Newsroom.
"How he does it, we don't know," said Zelizer. "A TV station, an online presence… but this would be a natural way to continue with the political campaigning that he seems to enjoy."
Brownstein explained that "Trump and Trumpism" are a symbol of civil war within the GOP and his core support comes from right-leaning media outlets. He will need his supporters to watch his channel and as a result, his media presence could begin to have some power where establishment figures won't give it to him.
Stelter suggested that resurfacing as a media personality could empower supporters and it's likely Trump would do that instead of disappearing altogether.
Watch above.
[image via screengrab]
Have a tip we should know? tips@mediaite.com