CNN's Zucker Hits Back on Trump Coverage Criticism: People Want to Blame Someone for his Rise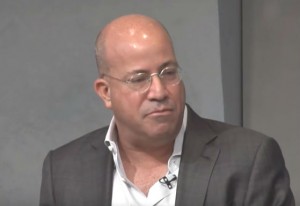 Ever since Donald Trump became the 2016 Republican frontrunner, his critics have taken to accusing news agencies of giving the mogul free media coverage and letting his controversies control the election discussion.
As people continue to fight over exactly who's to blame, or whether news figures simply underestimated Trump's appeal, CNN CEO Jeff Zucker spoke with The Guardian and argued that his network is not responsible for the real estate mogul's successful campaign.
The Guardian pointed out that the continuous Trump coverage has been a net positive for the network in ratings, but Zucker argued that the network has been "holding Trump's feet to the fire" and was not giving him too much free coverage.
"I only wish that CNN had that much power to be able to create a frontrunner on either side," Zucker said. "The critics of Donald Trump are looking for people to blame for his rise. There are many people who are either surprised by his strength, or don't like him, and want to blame someone to explain why he has been this popular."
While the network has leveled out its ratings jump while also trying to integrate original programming like Anthony Bourdain: Parts Unknown and Race for the White House, The Guardian noted that CNN has been criticized for not going in depth with certain subjects even when Trump is not the center of media gravitation.
Tucker's response to this was that the "news-wheel" approach was an obsolete newscasting strategy and that it was more important to dig deep on the most pressing issues while presenting the rest of the news through the internet.
[Image via screengrab]
— —
>> Follow Ken Meyer (@KenMeyer91) on Twitter
Have a tip we should know? tips@mediaite.com