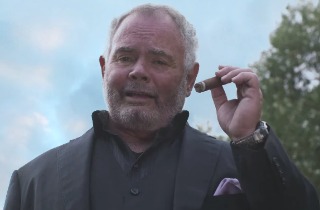 An independent candidate for governor in Colorado has a unique new ad out: a music video in which he and Wyclef Jean rap about politics, freedom, and marijuana.
Mike Dunafon is a libertarian who's married to Debbie Mathews, the owner of the Shotgun Willie's strip club in Denver. He's very passionate about marijuana legalization, and even has a long open letter on his website to "the cannabis community."
And this week he upped the game, releasing "The Trap" with accompanying vocals by Jean. There's imagery of average citizens behind bars, and lyrics like "sick of party politics/left and right are wrong/get the money out/so we can get along."
Dunafon explains the purpose and message of the ad:
Audiences of all ages will identify with the citizens locked in the major-party cage. Jean and Dunafon's message is that if you're sick of party politics, and you want to get the money out, an independent governor is the best choice for Colorado, because he is not taking money from vested interests, and is willing to talk about the most divisive issues: local control over fracking, the release of non-violent cannabis prisoners, and investing to create a world-class cannabis and hemp industry in Colorado.
And this is on the heels of yet another gubernatorial candidate (this one in Rhode Island) taking a hit off a weed pipe… in a campaign ad.
You can watch Dunafon's rap below:
[h/t Gawker]
[image via screengrab]
— —
Follow Josh Feldman on Twitter: @feldmaniac
Have a tip we should know? tips@mediaite.com
Josh Feldman - Senior Editor