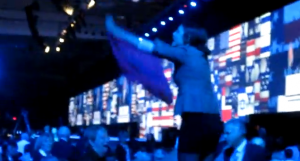 Activists from Codepink, the woman-led anti-war group, appeared at Israeli prime minister Benjamin Netanyahu's speech at the American Israel Public Affairs Committee gala last night to protest his position that re-implementing Israel's borders as they were in 1967 would be "indefensible."
A press release posted by the group on "Move Over AIPAC" describes their actions and motivation:
The protesters, 5 in all, rose one by one, unfurled banners, and chanted slogans. In response to Netanyahu's claim that returning to the 1967 borders would be "indefensible," activists called out that various aspects of Israel's policy are indefensible. They were escorted out by security, but not before they made a highly visible protest against the theft of Palestinian land, the siege of Gaza, denial of the rights of Palestinian refugees, silencing dissent, and destruction of homes and schools.

"Growing up as the son of Holocaust survivor, I learned that it is everyone's job to stand up for others when they are persecuted, and I learned what happens when we don't defend humanity. Now, it is my job to stand up in support of Palestinians, saying, 'bombing schools is indefensible, bulldozing homes is indefensible, '" said Jewish American protester Rick Colbath-Hess, 53 from Cambridge, Massachusetts.
Also included are three videos from the protest, respectively titled "Occupying Land in Indefensible," "Silencing Dissent is Indefensible," and "Bulldozing Homes is Indefensible" – and, thus, using Netanyahu's own rhetoric against him.
In the video below, you can see several in the crowd cheering as a young woman is forcibly removed from the event after chanting that "silencing dissent is indefensible:"

h/t
The Blaze
Have a tip we should know? tips@mediaite.com