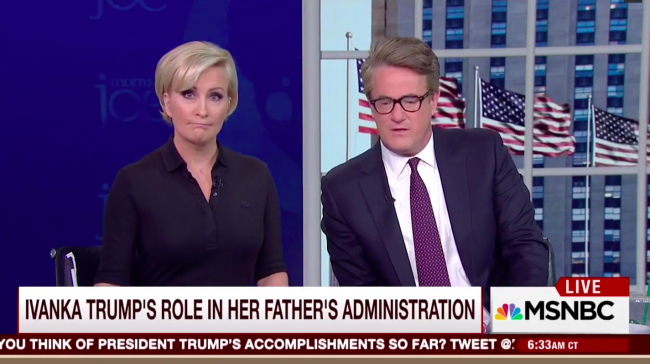 Joe Scarborough and Mika Brzezinski were absent this morning from the set of Morning Joe, with show mainstay Willie Geist stepping in to host the popular program.
"Joe and Mika have the morning off." said Geist before swiftly moving on.
Geist offered no indication of a vacation or other explanation for their absence, raising obvious questions about whether it might be related to the nasty on-air spat the two had on Wednesday. During that show, Scarborough offered an unusual on air smackdown to his co-host calling her "rude" and "snotty," after she questioned a comparison Scarborough (sort of) made between Bobby Kennedy and Ivanka Trump.
"You don't have to be so snotty. I was about to say, you didn't let me get it out. You don't have to be so rude," Scarborough snapped. "The fact of the matter is that they are not Bobby Kennedy as I was about to say but you wanted to get your cheap shot in so you got your cheap shot in. No I am not saying Jared and Ivanka are Bobby Kennedy."
Now, it's nothing new for Joe and Mika to get snippy with each other from time to time, but this one seemed to cut deeper. On Wednesday evening, Scarborough appeared to offer a cute apology over the incident — though he later said he was talking about Rugby.
Me: I'm sorry
Mika [Pulling a tooth out of her fist]:
Don't sweat it.

~Scene~

— Joe Scarborough (@JoeNBC) April 27, 2017
This morning?? I was talking about 5 minutes ago on the rugby field. https://t.co/2bqw1CvCuD

— Joe Scarborough (@JoeNBC) April 27, 2017
An MSNBC spokesperson told Mediaite that the pair was on planned time off and will be back on air on Tuesday.
[image via screengrab]
Have a tip we should know? tips@mediaite.com