Colbert: Hillary Clinton Is Nearly 'Agonizingly Needy to Express Her Humanity'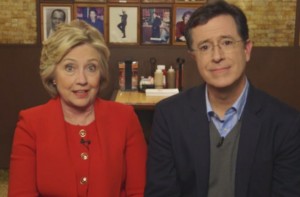 Stephen Colbert plans to air his show live during the Democratic and Republican political conventions, and both are likely to provide him with a whole new set of comedic material to work with. Colbert has made election coverage a cornerstone of The Late Show ever since he became its new host, and he gave an interview yesterday about his overall takeaway from both sides of the spectrum.
Speaking on Politico Playbook, Colbert described the logistics of preparing a new format for convention live coverage. Eventually, Colbert made his way to Donald Trump, where he described what exactly it's like to satirize the incendiary candidate who's already provided an endless source of material already.
"The difficulty is leapfrogging how crazy Trump is," Colbert said. "If you really want to satirize someone… you can try to leapfrog their behavior, which is one reason I'm glad I don't do my character anymore… It's hard to hold his feet to the fire."
Of course, Colbert eventually turned to Hillary Clinton, saying that the easiest way to satirize her is by exploring the views held by critics that she's a liar, or otherwise, that she acts like a political robot even when she tries to appear human:
"One on one, she's absolutely charming and human and you just don't understand why [when] there are more than five people in a room she turns into, like, the host of a poorly rated local access children's show. She becomes very stiff and almost agonizingly needy to express her humanity."
[Image via screengrab]
— —
>> Follow Ken Meyer (@KenMeyer91) on Twitter
Have a tip we should know? tips@mediaite.com