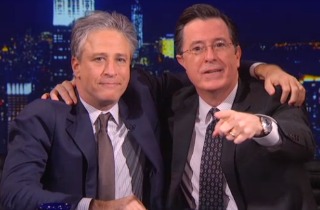 Stephen Colbert has been making infrequent public appearance between late night gigs. And today, he got to let his geek flag fly when he got to interview Star Wars mastermind George Lucas about the epic sci-fi series, in the wake of yesterday's amazing trailer for Episode VII: The Force Awakens.
But according to Deadline, amid all the nerding out over Star Wars, there was a moment where Colbert weighed in on a topic people have been itching to hear more from him about: late night TV.
Yes, Colbert is still positioned to be taking over The Late Show in September after David Letterman leaves next month. There was an awkward moment when Lucas confused which late night show Colbert was moving to, but he brushed past it.
Colbert joked about what a difference it will make from doing a show at 11:30 to doing a show at 11:35. He also addressed the impeding departure of his buddy Jon Stewart and his replacement Trevor Noah:
"He is a very funny guy. I don't want to be the guy who takes over for Jon Stewart. I've worked with him, and my memories of him is that he's the keenest, most intelligent, most beautifully deconstructive mind — the clearest thinker I ever worked for. I would never get underneath his shadow. Someone else who doesn't love him as much might have a better time on that show than I ever would."
Colbert is returning to late night on September 8th. Comedy Central has not yet announced when Stewart's final show will be.
[image via screengrab]
— —
Follow Josh Feldman on Twitter: @feldmaniac
Have a tip we should know? tips@mediaite.com
Josh Feldman - Senior Editor