UPDATE III: College Student Reportedly Suspended After Refusing to Step on 'Jesus'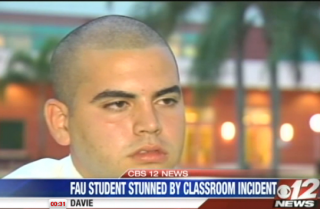 Ryan Rotela, a junior at Florida Atlantic University in Boca Raton, claims he was suspended over a class incident in which he refused to stomp on the word 'Jesus.'
According to Rotela, Dr. Deandre Poole, professor of the Intercultural Communications course, asked students to write 'Jesus' in bold letters on a sheet of paper, place it on the floor, stand up, and stomp on it.
Rotela, a deeply religious Mormon who attends church weekly, was offended and refused to participate. Rotela states:
"I said to the professor, 'With all due respect to your authority as a professor, I just do not believe what you told us to do was appropriate, I believe it was unprofessional, and I was deeply offended by what you told me to do.'…. If you were to stomp on the word 'Jesus,' it says that the word has no value."
Rotela claims Professor Poole showed no remorse, however. Two days later, Rotela expressed his concerns to the professor's supervisor. Rotela was subsequently suspended from the class and reportedly told not to return to the class. Rotela states: "I truly see this as, you know, I'm being punished. And… I'm still waiting for an apology from somebody."
Florida Atlantic University released this statement via email to local media in response to the controversy: "Faculty and students at academic institutions pursue knowledge and engage in open discourse. While at times the topics discussed may be sensitive, a university environment is a venue for such dialogue and debate."
It also claims the professor's classroom exercise was from a textbook entitled, "Intercultural Communication: A Contextual Approach, 5th Edition."
[An email has been sent to the textbook's author, in order to verify whether his textbook does in fact recommend or suggest such an exercise. Mediaite will update this article with any response.]
The university did not say whether it would take disciplinary action against Dr. Poole but some are calling on it to do so: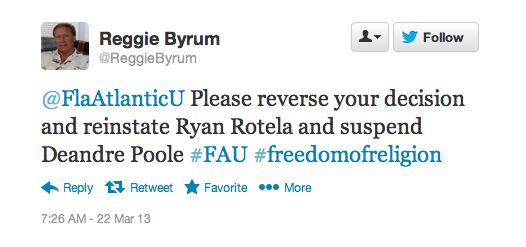 Dr. Poole is also vice-chairman of the Palm Beach Democratic Party. As BizPac Review reports, "[Dr. Poole's] recent actions add fire to an already-disturbing pattern of hate coming out of the local party." Its chairman was reportedly forced to resign in September over anti-Christian remarks and, two months earlier, a Democratic Executive Committee member from Palm Beach County resigned following public outrage over her anti-Israel comments.
Florida Atlantic University also faced another controversy recently, when one its professors claimed crisis actors may have been used in the Sandy Hook tragedy.
UPDATE:  Michael Counter, Director of Media Relations for St. Norbert College, where the aforementioned textbook's author teaches, responded to our inquiry. Mr. Counter stated that the following exercise, while not included in the textbook (as Florida Atlantic University's statement noted), is included in the teacher's manual that accompanies the textbook. The manual reads:
"This exercise is a bit sensitive, but really drives home the point that even though symbols are arbitrary, they take on very strong and emotional meanings. Have the students write the name JESUS in big letters on a piece of paper. Ask the students to stand up and put the paper on the floor in front of them with the name facing up. Ask the students to think about it for a moment. After a brief period of silence, instruct them to step on the paper. Most will hesitate. Ask why they can't step on the paper. Discuss the importance of symbols in culture."
Dr. Poole was therefore, it seems, following an exercise from a teacher's manual that accompanies the textbook used in his course.
UPDATE II: Fox News's Todd Starnes reported Friday evening that Florida Atlantic University has issued an apology in a statement to Fox News, in which the university stated:
"We sincerely apologize for any offense this has caused. Florida Atlantic University respects all religions and welcomes people of all faiths, backgrounds and beliefs…. Contrary to some media reports, no students were forced to take part in the exercise; the instructor told all of the students in the class that they could choose whether or not to participate…. While we do not comment on personnel matters, and while student privacy laws prevent us from commenting on any specific student at the University, we can confirm that no student has been expelled, suspended or disciplined by the University as a result of any activity that took place during this class… This exercise will not be used again…."
[h/t to FoxNews and Todd Starnes]
UPDATE III: Despite the press release issued by the university last Friday (see Update II, above), there were reports that the student, Ryan Rotela, was in fact facing academic charges, for violations of the student code of conduct, including allegations of threats. [It is important to note, however, that there has been no direct finding of what exactly transpired in the classroom during that exercise. As such, it is unclear and unknown at this time whether these charges stemmed purely from Mr. Rotela's refusal to participate in the exercise and/or his disclosure to the media of the events, or instead from other actions of Mr. Rotela.] According to Monday's reports, Mr. Rotela was in fact suspended from the class and also instructed not to contact any of the students involved. The Liberty Institute (an organization whose "mission is to defend and restore religious liberty across America"), which is now representing Mr. Rotela, told Fox News that the university's behavior is "outlandish" and that the university's press release last Friday was, in fact, "inaccurate." The Liberty Institute stated it believes the university punished Rotela in retaliation for Rotela exposing the class assignment publicly. Later on Monday, however, the university issued a formal apology to Rotela. It is now dropping the pending academic charges and is organizing a plan for Rotela to complete the course without Deandre Poole, the professor. Dean of Students' Corey King expressed to Fox News that the university is "deeply sorry." Rotela told FoxNews he is satisfied with the university's apology and is thankful for the support he received, stating:
"I have two words – thank you, If it wasn't for all the Christians and the open-minded people who decided to call the university – I would be sitting in a room getting punished, getting sanctioned from the school and getting expelled from the university."
On Tuesday, the university released a video statement, featuring Charles Brown, the university's Senior Vice President of Student Affairs, apologizing on behalf of the university and affirming that the "insensitive and deeply hurtful" exercise will not be used again. Click here to view the video.
But also on Tuesday, Florida Governor Rick Scott sent a letter to the State University System of Florida's Chancellor, requesting "a report of the incident, how it was handled and a statement of the university's policies to ensure this type of 'lesson' will not occur again." Governor Scott notes that "whether the student was reprimanded or whether an apology was given [by the university] is in many ways inconsequential to the larger issue of a professor's poor judgment. The professor's lesson was offensive, and even intolerant, to Christians and those of all faiths who deserve to be respected as Americans entitled to religious freedom." Click here to view the letter.
[h/t to FoxNews and Todd Starnes]
Have a tip we should know? tips@mediaite.com