Colorado Senate Dems Troll Jeff Sessions Over Weed Crackdown: We'll Give Him 'Our Legal Pot When He…'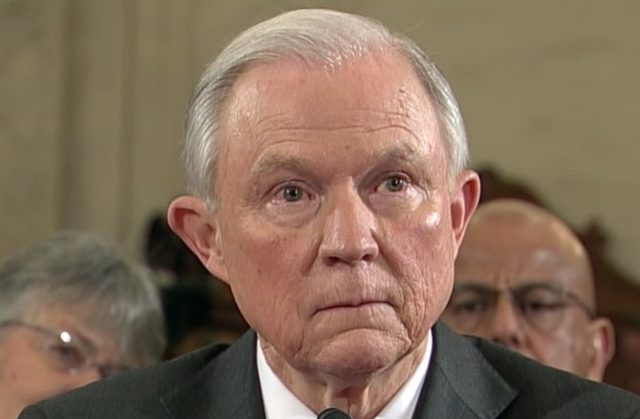 Attorney General Jeff Sessions decided today to rollback several Obama-era directives that discouraged enforcement of federal marijuana laws in states that had legalized the drug, an obvious blow to nationwide legalization.
This has not gone down well with those who favor legalizing the drug, a move that typically polls well across the country and extremely well on CNN.
Joining the recent choir in opposition to the move? Democrats in Colorado, where the drug has been fully legal since 2012.
The state party's official Twitter account trolled Sessions today, delivering a riff on the iconic NRA slogan "from my cold, dead hands."
"We'll give Jeff Sessions our legal pot when he pries it from our warm, extremely interesting to look at hands," they wrote, playing off of the line made famous by both bumper stickers and actor Charlton Heston.
Sessions rationalized the rollbacks in an all-staff memo earlier today.
"It is the mission of the Department of Justice to enforce the laws of the United States, and the previous issuance of guidance undermines the rule of law and the ability of our local, state, tribal, and federal law enforcement partners to carry out this mission," he wrote.
"Therefore, today's memo on federal marijuana enforcement simply directs all U.S. Attorneys to use previously established prosecutorial principles that provide them all the necessary tools to disrupt criminal organizations, tackle the growing drug crisis, and thwart violent crime across our country."
Also, oh hey, here's a video of President Donald Trump, during the campaign trail, stating he wouldn't let his AG use "federal authority" to shut down sales of marijuana, saying, in no uncertain terms, that it would be left "up to the states."
[image via screenshot]
—
Follow Lawrence Bonk (@sidescrollers) on Twitter
Have a tip we should know? tips@mediaite.com