Colorblind Fashion Critic Marco Rubio: 'Some Of The Stuff On The Runways In New York Is Hideous'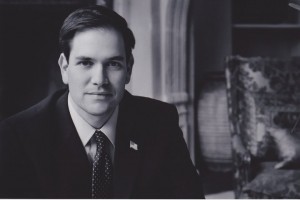 The Hill's Judy Kurtz caught a nifty scoop about Florida Senator and Republican Veepstakes buzz-generator Marco Rubio, one that even his own staff didn't know about: apparently, Rubio is colorblind.
That didn't stop him from taking a shot back at the Gotham fashion scene, with a line that you can file under "Things A Democrat Could Never Get Away With Saying," namely that "Some of the stuff on the runways in New York is hideous."
The optical bombshell came after we asked the junior senator about what he thinks of Orlando being named the fourth-worst-dressed city in the United States.

Rubio didn't bite at that one, other than saying that "it depends on who's judging. Some of the stuff on the runways in New York is hideous and yet it's supposed to be high fashion."

Pressed on his own fashion sense, Rubio explained that it's hard for him to evaluate the latest styles, adding, "I'm colorblind."
Judy goes on to explain that one of Rubio's aides was pretty sure the Senator was just making a joke at the expense of his own fashion sense, but after double-checking, confirmed Rubio's infirmity. She also reports that both former President Bill Clinton and his 1996 presidential rival then-Sen. Bob Dole suffer from the affliction. (The More You Know!)
Politics aside, I sympathize with Rubio, because unless you're completely blind, visual disabilities get you zero sympathy. If you take away my glasses, the world looks like that little TV that Osama bin Laden watched porn on, if you wrapped it in dirty gauze, yet people feel no compunction about making fun of my disability. I'm sure nobody ever goes up to Stephen Hawking and says "Whatcha readin', there, Mr. Wheelchair?" but I bet he got called "four-eyes" at least once. Rubio and I would actually be better off picking one eye to gouge out; at least then, we'd look badass.
As Judy points out, the disability doesn't have much of a political impact, other than that "he might need some help determining which states go red and blue on election night."
Have a tip we should know? tips@mediaite.com