Columbia Professor Strips Down To Underwear, Shows 9/11 Footage During Bizarre Physics Lecture
Professor Strips To Underwear, Shows 9/11 Footage During Bizarre Physics Lecture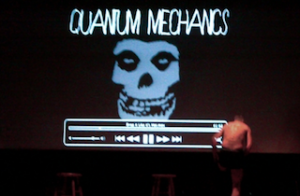 A freshmen Frontiers of Science class at Columbia University got more than they had bargained for on Monday during what has to be one of the strangest lecture introductions ever captured on video. Physics professor Emlyn Hughes, who lists research at the Large Hadron Collider as his primary area of study, treated the unsuspecting first years to a display they're not likely to forget anytime soon.

The Columbia Spectator describes the scene as students entered the class as follows:
As students filed into the lecture hall, all of the lights were off, except for two spotlights on stage where Hughes was sitting. With Lil Wayne's "Drop It Like It's Hot" playing in the background, Hughes stripped down to his underwear, then proceeded to change into a black T-shirt and pants. Afterwards, he sat down on the chair, hugging his knees in a fetal position.

Then, as a jumbled video that included footage of the planes crashing into the Twin Towers on 9/11 continued to play on the screen, two figures dressed in black came on stage with long swords. One of them proceeded to chop a stuffed animal in half on a stool.
When Hughes' presentation was over, he attempted to quell the nervous laughter with an explanation: "In order to learn quantum mechanics, you have to strip to your raw, erase all the garbage from your brain and start over again."
The Spectator quoted several students who were offended by the World War II and 9/11 imagery, including Maura Barry-Garland, who said. "It was very disturbing, and I don't think anyone in the audience got what he was doing. He didn't explain it or provide a context, and that's why it was offensive to me and to other people."
Whatever Professor Emlyn Hughes was trying to get across to his young students, thanks to one intrepid freshmen with an iPhone, far more people than those inside the classroom are now able to receive his message.
Watch video below, via BWOG:
—
>> Follow Matt Wilstein (@TheMattWilstein) on Twitter
Have a tip we should know? [email protected]