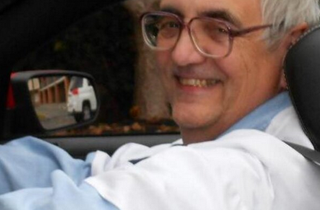 Columnist Don Surber, who's been with the Charleston Daily Mail for over 30 years, recently took to his personal blog to share his opinions about the events in Ferguson, and this is the first paragraph. It really starts like this. From Jim Romenesko:
This summer I had an epiphany as I watched packs of racists riot in Ferguson, Missouri, in support of a gigantic thug who was higher than a kite when he attacked Ferguson Police Department Officer Darren Wilson, who unfortunately had to put this animal down.
We assumed that some people complained about the fact that this old white dude called a black man an "animal," because Surber quickly apologized. By apologized, we mean doubled down, with sass:
UPDATE: I made a factual error. Michael Brown was not an animal but a man. Big. Brutal. High. His death was a justifiable homicide and not a putting down.
Surber's comments eventually reached his editors at the Charleston Daily Mail, which subsequently fired him. He selected words that were unfortunate, inflammatory and, in our view, inexcusable," editor Brad McElhinny said. "It's his own blog, but still, he's known as a Daily Mail editorial columnist and many readers seemed to perceive the views stated to reflect on the Daily Mail's editorial policy."
In response, Surber republished his essay, but without the animal parts. "Readers who want to carry this on forever should be ashamed of themselves," he added.
[Jim Romenesko]
[Image via Don Surber/Twitter]
—
>> Follow Tina Nguyen (@Tina_Nguyen) on Twitter
Have a tip we should know? tips@mediaite.com