Compliment Or Repudiation? Ben Affleck And DNC Dismiss GOP's Use Of The Town As Motivation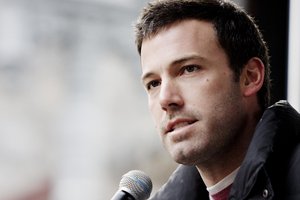 As we reported yesterday, House Republicans were treated to a special presentation by Rep. Kevin McCarthy during a party meeting to figure out how to sort out the debt ceiling crisis, where members viewed a clip from Ben Affleck's The Town in an attempt to unite the party behind John Boehner's plan. The response was clearly powerful when the clip was shown (Rep. Allen West allegedly stood up and expressed his support for the plan), but reactions outside the Republican party have been less than kind.
First up, the Democratic National Committee. In this particular scene from The Town, the two characters speak their lines before driving over to someone's apartment and bludgeoning two men. DNC Chairwoman Debbie Wasserman Schultz thought this was a "sad metaphor" for how Republicans have acted during the negotiations process. From CNN:
"They could have used 'Hoosiers,' 'Rudy' or 'Band of Brothers'," Wasserman Schultz said in a press conference Wednesday. "But this was the choice they made."

The Florida congresswoman interpreted the clip as the Republicans wanting to hurt either the Democrats and President Obama in the debt talks–or the American people through entitlement cuts.

"Now is the time for compromise, not for pain," Wasserman Schultz said.
Congressman James Clyburn echoed her statements, but admitted that after Republicans took the House majority, Democrats watched Bravehart during a caucus meeting "as a metaphor for us maintaining our own faith in the process." Senator Chuck Schumer also spoke out firmly against the GOP's decision to play the clip.
But perhaps no reaction was more interesting than that of the film's writer, director, and star: Ben Affleck. Affleck's politics are more liberal, and so did not have a very positive reaction to Republicans using the clip to psyche up their party.
"I don't know if this is a compliment or the ultimate repudiation," said the actor, who is currently in Turkey directing and starring in "Argo," an adaptation of the Tehran hostage crisis. "But if they're going to be watching movies, I think 'The Company Men' is more appropriate."
The Company Men is a recession piece focusing on middle-class Americans struggling to find jobs in this current economy.
To me, here's the most frustrating part of this controversy: everyone reporting on this has officially ruined the movie for me. Hello, media! What happened to spoiler alerts?
Have a tip we should know? tips@mediaite.com
Josh Feldman - Senior Editor