Concealed Weapons Laws Permit Guns In Republican, Democratic Conventions' Protest Zones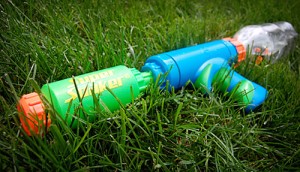 Those planning on bringing a water gun to the Republican National Convention may want to rethink their plans. But while Super Soakers may not be welcome, laws in both Florida and North Carolina (where the Republican and Democratic conventions will be held, respectively) permit concealed weapons, including guns. Some officials are worried about what this means for the protest zones at the conventions.
To clarify, concealed weapons will not be allowed at the actual conventions — where, according to the Tampa Bay Times, Secret Service "check credentials and use metal detectors to scan every person going inside the security perimeter. Only law enforcement officers working in their official capacity will be allowed to carry guns into the perimeter." Anything outside that perimeter is the responsibility of federal and local authorities (though mainly local).
Furthermore, state law in Florida, as the Tampa Bay Times notes, does not permit local governments regulating gun laws. City Attorney Jim Shimberg Jr. said, "Even if we tried to regulate it, it would be null and void." So, according to the Associated Press, the Tampa City Council wants Gov. Rick Scott "to issue an executive order, preventing people with concealed weapons permits from carrying guns."
Tampa Mayor Bob Buckhorn said, "The absurdity of banning squirt guns but not being able to do anything about real guns is patently obvious. Given the nature and the potential dynamic of this event, I think it would make sense that you would not want firearms introduced into that environment by people other than law enforcement."
Other banned items citywide include: pieces of wood, hard tubes or anything else that could be used as a club; switchblades, brass knuckles, slingshots, paintball guns, and any container containing urine, fecal matter or other bodily fluid. Inside the protest area, "the ban would be expanded still further to prohibit aerosol cans, camping gear, coolers and ice chests, fireworks, lasers, bottles, cans, thermoses, sticks, poles, ladders and umbrellas with metal tips."
(H/T AP via HuffPost; Tampa Bay Times)
Have a tip we should know? tips@mediaite.com