Concha: Scarborough Snark on Megyn Kelly's Fashion Way Out of Bounds — Here's Why
In today's age of HDTV and 50+-inch screens dominating our living rooms, more than ever television is a visual medium. And by now you've probably noticed that attractive women are more the rule than the exception in the world of cable news.
Fox tends to get singled out here, but the truth is that the land of aesthetically pleasing extends to CNN and MSNBC as well. For every Shannon Bream and Kimberly Guilfoyle on Fox, there's a Tamron Hall or Alex Wagner on MSNBC, or an Erin Burnett or Brooke Baldwin on CNN. It's simply pretty much the way it is regardless of network…and there's no going back.
Of course, the usual stereotypes quickly follow when it comes to fetching females and journalism, and the punchline usually entails either something about not having even a GED, or exploiting one's looks to get to a certain position at a network. Exhibit A occurred via a tweet Friday morning by MSNBC's Joe Scarborough's regarding Megyn Kelly's choice of fashion during her appearance on Jimmy Kimmel Live! Thursday night:
Amazing coincidence here. Eric Sevareid wore the same outfit this day in 1941 reporting on RAFs raid of French port. pic.twitter.com/bke1lfrsvz

— Joe Scarborough (@JoeNBC) December 19, 2014
What Scarborough is implying, of course, is that a serious journalist would never dare sport an outfit that is even remotely provocative. But at last check, Ms. Kelly wasn't in the host chair yesterday evening in Los Angeles, Jimmy Kimmel was. And if you watch any of the late-night programs, a majority of female guests–particularly those who work on the big or small screen–prefer to dress to the nines. Going on a show like Kimmel's is like going to a hot Hollywood party. Kelly–owner of the #1 or #2 program in cable news every night–treated it as such, as she should have.
Scarborough, of course, didn't seem to hold his co-host (Mika Brzezinski) to the same standard of JFE (journalism fashion ethics) during this promo for Morning Joe.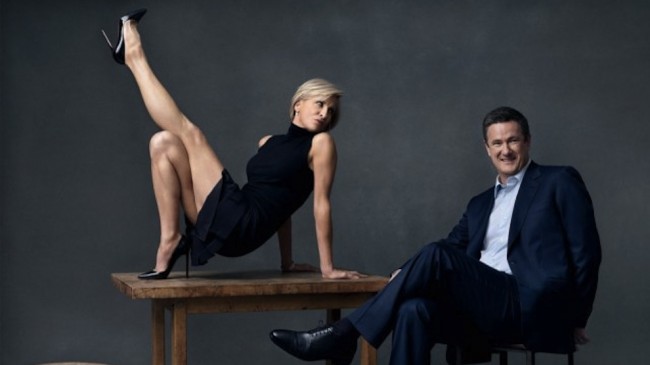 But in case you didn't know it, the former Florida congressman is actually the Peacock's own Randy Fenoli (the "Say Yes to the Dress" guy). Check out what Mika had to say about his attire acumen in this 2012 New York Times story:
Scarborough's co-host, Mika Brzezinski, described Scarborough as "a little bit like a gay stylist."

"Seriously," she said. "Talk to his wife or any of her friends. He has got a real side to him that knows style and look and color and hair. He's amazing. Amazing."
Amazing indeed. What's also amazing is that Scarborough actually appeared on The Kelly File not too long ago to promote a book. Not a big deal, of course, as Fox talent also takes that walk across the street to 30 Rock to appear on MSNBC programs to promote stuff all the time… except, you know… it's never happened before.
Finally, lest anyone believe any of the women who exist in primetime are somehow there solely for their looks. For example, as you may have heard, Rachel Maddow is only an Oxford Rhodes Scholar. Erin Burnett–a Williams grad–has only reported from and done documentaries inside of Russia, India, Jordan, Nigeria, Congo, Iran, Iraq, Israel, Palestinian Territories, Turkey, Saudi Arabia, Pakistan and Egypt, and that isn't even the whole list. Greta Van Susteren earned a Juris Doctor from Georgetown Law and a Master of Law from the school a few years later. She's also the very first Stuart Stiller Fellow at Georgetown Law Center.
As for Megyn Kelly, she earned her bachelor's at Syracuse in Political Science before earning a Juris Doctor from Albany Law School. She also served as the Albany Law Review's associate editor. Just another blond bimbo who's only on the air for her legs and cleavage, right?
Television is a visual medium. And across all three of the cable news networks, those of the fairer sex who are appealing to the senses aren't exactly at a premium.
But here's a little secret:
Almost all of them are exceptionally intelligent and educated as well.
But that just doesn't play into the narrative of guys like Joe Scarborough, now does it?
— —
>>Follow Joe Concha on Twitter @JoeConchaTV
This is an opinion piece. The views expressed in this article are those of just the author.