Condoleezza Rice Recalls Meeting Gaddafi, Who Asked Why 'His African Princess' Hadn't Visited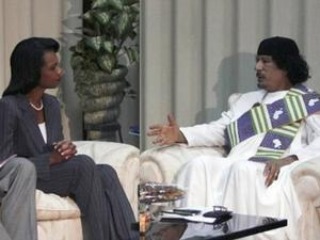 It must have been a weird few months for Condoleezza Rice. Back in August, it was discovered that former Libyan leader Muammar al Gaddafi had kept a photo album dedicated to the former Secretary of State at his compound. Now, in the wake of his death, Rice has offered the Daily Beast an inside glimpse into her uncomfortable meeting with the eccentric dictator.
RELATED: Found In Gaddafi Compound: Photo Album Filled With Images Of Condi Rice
In an excerpt from her memoir, No Higher Honor, Rice describes some of the trepidation she felt in advance of her "much anticipated" yet disquieting visit to Libya to meet with Gaddafi:
My upcoming trip gave me powerful leverage in these negotiations because Qaddafi desperately wanted me to visit Tripoli.

There were two reasons for this: one traditional and the other, well, a little disconcerting. Obviously, the first visit by a U.S. secretary of state since 1953 would be a major milestone on the country's path to inter- national acceptability. But Qaddafi also had a slightly eerie fascination with me personally, asking visitors why his "African princess" wouldn't visit him.
Rice notes that she declined an invitation to visit Gaddafi in his tent, choosing instead to hold their meeting at his formal residence. She had been warned that he might "say something crazy." And, sure enough, Gaddafi launched into the sort of conversation best reserved for uncomfortable Thanksgiving dinners with one's extended family:
"Tell President Bush to stop talking about a two-state solution for Israel and Palestine!" he barked. "It should be one state! Israeltine!" Perhaps he didn't like what I said next. In a sudden fit, he fired two translators in the room. Okay, I thought, this is Qaddafi.
That's so ravin'!
h/t Daily Beast
Have a tip we should know? tips@mediaite.com