Congressional Shooter's Last Tweets Urged Democrats to Filibuster Neil Gorsuch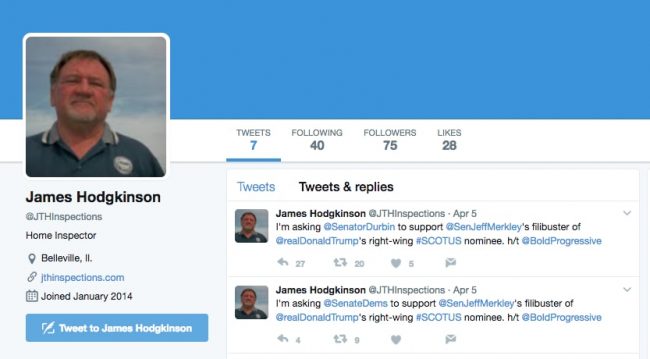 On Wednesday the Washington Post reported that the shooter in an attack on GOP lawmakers was James T. Hodgkinson. Initial reporting indicates that Hodgkinson, 66, was from Bellville, Illinois and owned a home inspection business.
A look at his social media accounts now suggests that he was a Democrat — and a very partisan one. In two Facebook profiles and one Twitter account, Hodgkinson routinely denounced Trump and Republicans. Across one Facebook page was a large smiling banner of Bernie Sanders.
Hodgkinson seems to have even had a taste for the nitty gritty of Washington politics. His final statements on Twitter were a pair of posts calling for the Dick Durbin (D-IL) to support the filibuster Trump SCOTUS nominee Neil Gorsuch.
… apparently not a fan of originalism either.
Capitol police killed Hodgkinson during the shootout early Wednesday morning. Initial reports indicate that he fired 50 to 60 rounds near the baseball diamond where GOP lawmakers had gathered for a game. Speaking on Morning Joe earlier today, Senator Rand Paul, who was there, said capitol police were only present as part of Rep. Steve Scalise's security detail — which he is granted as a member of House GOP leadership. According to Paul, their presence was all that stood in the way of a "massacre"
Scalise was shot in the hip and is reported to be in stable condition.
[image via screengrab]
Have a tip we should know? [email protected]