Congressman Joe Garcia Fires Back at Rep. Steve King's 'Offensive' Remarks: 'Beneath The Dignity Of' Congress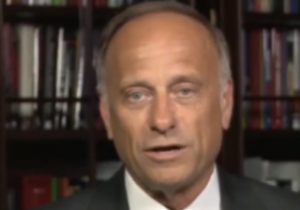 As the fight over immigration reform continues in the Capitol, Republican congressman Steve King's recent comments about undocumented migrants are inspiring ire and further damaging the reputation of Republicans in Hispanic/Latino communities. On the conservative site Newsmax, King was quoted as saying that some immigrant children are "valedictorians," but for every one there are "100 more…hauling 75 pounds of marijuana across the desert."


This is also a follow up to another recent controversy where the same Congressman used dog metaphors to talk about immigrants, saying that Americans "had the pick of the litter" and needed to avoid lazy immigrants like one would avoid a "bird dog" "sleeping in the corner."
Unsurprisingly, his array of questionable comments is getting pushback–King was recently grilled by Univision anchor Jorge Ramos, where he defended the "dog" comments as "complimentary" and denied making any sort of comparison. And now, his own House colleagues are criticizing his poor choice of words, with Rep. Joe Garcia, a Democrat from Florida, calling them "inflammatory" and counterproductive.
Garcia read the quotes from the most recent interview aloud today during a House hearing on the status of undocumented children, often called "DREAMers," and followed up by saying, "when members of this…House…use inflammatory…[and] offensive language, it does not help…progress." Garcia also asserted that many valedictorians from his district in Southern Florida were indeed undocumented, before calling King's language "beneath the dignity of this body and this country." King, who made his opening statement directly after Garcia's criticisms, did not decide to comment, apologize, or acknowledge the previous accusations.
Congress, it seems, is far from a consensus on the future of immigration reform, and even on the fate of people who entered the country as children.
Have a tip we should know? tips@mediaite.com