Conquering Loserville: MSNBC's Griffin Should Be More Worried About Zucker Than Beating FOX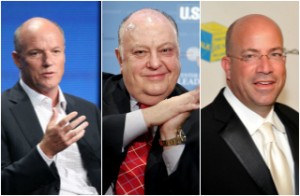 In aiming for the very top of the cable news landscape, MSNBC's Phil Griffin is doing what any good general should do when motivating troops who have been losing the war for years:
Thinking (out loud) big.
Setting aspirational goals.
Changing the culture.
In a recent interview with the New Republic, Griffin declared he expects to beat FOX News by 2014. Griffin's producers are apparently buying in, with one openly referring to FOX as "Loserville".
Bold prediction, bold posture, particularly since it wasn't too long ago that MSNBC was sometimes fourth in the cable news race (behind FOX, CNN and HLN).
Before embracing opinion and liberalism over straight news, the network lacked a brand, an identity. In March 2007 primetime, the primetime lineup consisted of one conservative (Joe Scarborough), one libertarian (Tucker Carlson) and two liberals who didn't appear to enjoy each other's company (Keith Olbermann and Chris Matthews). In daytime, the straight news offering was respectable thanks to resources from the NBC mothership (albeit low rated), but would get blown out of the water by CNN when any major story broke, particularly an international one.
Since that time (as recently noted in this space), MSNBC has made a tactical decision to go all-left, almost all opinion (to be precise, a recent Pew Research study says Griffin's brand is now 85 percent opinion, 15 percent straight news).
The result has been a ratings jump by roughly 100 percent. Double the audience. And by 2012, MSNBC had leapfrogged in the demo over everyone except FOX. In the process, it finally found the identity it was looking for.
However, since the election and the made-for-TV Fiscal Cliff narrative that followed, MSNBC not only hasn't continued to build momentum, it has slowly lost it. The wins that used to periodically occur more often in the demo (25-54) by Rachel Maddow and Lawrence O'Donnell over Sean Hannity and Greta Van Susteren, respectively, are becoming fewer and far between. In terms of overall audience, FOX is once again Secretariat heading down the stretch…so far ahead in most timeslots it's barely visible (doubling, tripling, even quadrupling MSNBC).
But second place still puts Griffin in position to make a slow, steady climb back, using the most important midterm election of our lifetime (trust me, you're going to hear that on every channel) as a trampoline to finally overtake mighty FOX.
Just one problem: MSNBC is currently no longer in second.
Over the past two weeks, night after night, Griffin's network has been beaten soundly in primetime by Turner's Headline News Network (HLN). Sure, some of that ratings bump is driven by the Jodi Arias trial, but as Bill Parcells once said, "There's winning, and there's misery." And MSNBC can't think of targeting the best team in the league when it can't even win the race to runner-up, regardless of the excuse (in this case, a murder trial, and when Arias ends, the Trayvon Martin case begins…which will only extend HLN's silver medal standing further).
Turner's CNN is also rebuilding its brand, evidenced by the recent hires of Chris Cuomo and Jake Tapper (who will need some time to build a regular audience). And Jeff Zucker won't stop there: Big pockets at Turner means relatively big names will likely follow in the coming year, and given the current numbers in the primetime 25-54 demo (mostly in the 100,000-150,000 range; for context, FOX News averages above 300,000), big changes are needed. In a related story, Griffin and Zucker are old friends from The Today Show back in the show's good old days in the 20th century.
In order to make a bold move upward, Griffin will also have to lead on the content front instead of following FOX's and Roger Alies's lead. The most glaring example is how FOX's The Five set the bar for roundtable, opinion programming. Instead of spending money on new talent or overexposing current star anchors, Alies mostly went to his contributor bench and found Kimberly Guilfoyle, Andrea Tantaros, Eric Bolling, Bob Beckel, Greg Gutfeld and Dana Perino to rotate into The Five. It's now the second-highest rated show in cable news.
A few months later, MSNBC launched The Cycle, consisting of four opinion makers: S.E. Cupp, Toure, Krystal Ball, and Steve Kornacki got the nod to be quad-hosts.
But here's the difference: The Five is all of the following things (at different times) thanks to its cast: Unbalanced, relaxed, confrontational, goofy, sober.
The Cycle simply has a different feel. The words that come to mind: Unbalanced, unnatural, uptight, forced, mean. It simply takes itself way too seriously. All of that said, The Cycle is still an improvement for MSNBC at 3:00 PM over its predecessor.
But therein lies the difference: FOX creates The Five, it goes straight to the top of daytime cable news. MSNBC creates The Cycle to look and feel like The Five, and while it's a modest upgrade for the network, it isn't a game changer. Not even close.
So absent of a major election (midterms are 19 months away) and some changes in on-air talent (Chris Hayes replacing Ed Schultz at 8:00 PM isn't making Bill O'Reilly lose a wink of sleep, while recent additions—David Alexrod and Robert Gibbs—only make the echo chamber louder without expanding the audience), MSNBC isn't heading to the summit no matter how many optimistic declarations Phil Griffin—now the Rex Ryan of cable news—makes publicly or privately.
Still, one has to admire Griffin for sending the right message to everyone under his command at 30 Rock. Conquering FOX is the correct tone to set…not settling for second, but the big question is: Does he have the players, the vision and the creativity, to actually pull it off?
In the meantime, Griffin should be looking in the rearview mirror where his friend, former co-worker and real competitor, Jeff Zucker, is lurking.
Because CNN and HLN may put MSNBC right back where it was.
Out of the money.
Off the medal stand.
Forget first place.
Beware of third or fourth instead…
Follow Joe Concha on Twitter @ConchSports
Have a tip we should know? tips@mediaite.com