Conservative and Liberal Media Debate Whether Neil Gorsuch Plagiarized His Book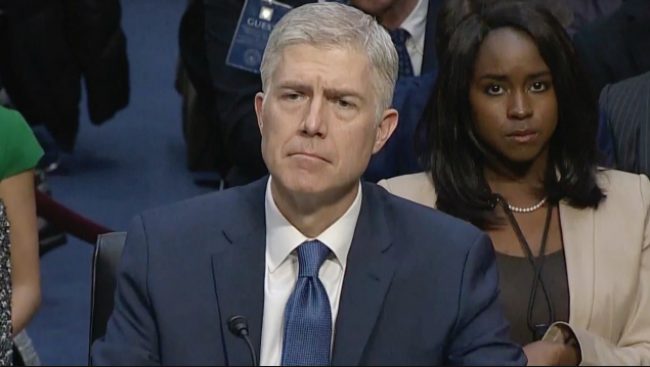 Judge Neil Gorsuch is facing allegations of plagiarism, though the story has come under major scrutiny as the media debates whether anything objectionable actually took place.
The news, which ran in Politico and Buzzfeed, states that Gorsuch lifted writings without properly attributing his sources at multiple points in his past. The most prominent examples relate to The Future of Assisted Suicide and Euthanasia, a book Gorsuch wrote in 2006, where he reportedly plagiarized a 1984 Indiana Law Journal article and other sources.
As the allegations against Gorsuch gained steam online, a number of conservative media organizations pointed out how the controversy may, in fact, be unsubstantiated. The driving argument behind this perspective is that Gorsuch did not plagiarize, but rather, wrote several paragraphs where he used the same primary sources that other legal scholars used in their writings.
In terms of the piece from Indiana Law Journal, conservative blogger Erick Erickson noted that Gorsuch referred to the same "original materials" that the article did, and it was not theft of intellectual property.
Abigail Lawlis Kuzma, the article's author, responded to the commotion by refuting the allegations against Gorsuch:
I have reviewed both passages and do not see an issue here, even though the language is similar. These passages are factual, not analytical in nature, framing both the technical legal and medical circumstances of the "Baby/Infant Doe" case that occurred in 1982. Given that these passages both describe the basic facts of the case, it would have been awkward and difficult for Judge Gorsuch to have used different language.
White House spokesman Steven Cheung also responded by saying the controversy was a "baseless, last-second smear" to stop Gorsuch's nomination to the Supreme Court. Cheung also referred to Kuzma's statement, as well as several other reviews from academics who refuted the plagiarism charges.
[image via screengrab]
— —
>> Follow Ken Meyer (@KenMeyer91) on Twitter
Have a tip we should know? tips@mediaite.com