Conservative Group FreedomWorks Made Fake Sex Video Featuring Hillary Clinton And A Panda, Report Says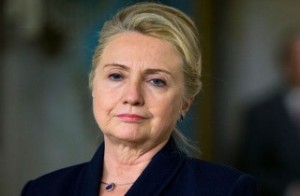 Prominent conservative group FreedomWorks made a video that featured a person in a panda suit having sex with a fake Hillary Clinton, according to a report by Mother Jones. The plans to show the video at a conference were reportedly scrapped.
Mother Jones' David Corn reported the story, noting that two female interns played the parts in the video.
In one segment of the film, according to a former official who saw it, Brandon is seen waking from a nap at his desk. In what appears to be a dream or a nightmare, he wanders down a hallway and spots a giant panda on its knees with its head in the lap of a seated Hillary Clinton and apparently performing oral sex on the then-secretary of state. Two female interns at FreedomWorks were recruited to play the panda and Clinton. One intern wore a Hillary Clinton mask. The other wore a giant panda suit that FreedomWorks had used at protests to denounce progressives as panderers. (See here, here, and here.) Placing the panda in the video, a former FreedomWorks staffer says, was "an inside joke."

Another FreedomWorks staffer who worked there at the time confirms that "Yes, this video was created."
The video was supposed to be shown at FreePAC, a conservative conference in Dallas in July 2012. However, Corn said, after it was screened, several objections led to nixing that plan. Several of the group's staffers, the report noted, were "outraged and stunned."
"My mouth was wide open," a former official recalls. "'What the hell is this?'"
[…]
"How was that not some form of sexual harassment?" a former FreedomWorks official asks, noting that two female interns had been requested to act out a pretend sex scene. "And there were going to be thousands of Christian conservatives at this thing. This was a terrible lack of judgment."
Corn reported that the story surrounding the video stemmed from an internal investigation "focused on president Matt Kibbe's management of the organization, his use of its resources, and a controversial book deal he signed." Former House Majority Leader Dick Armey resigned as chairman of the group late last year, citing management concerns. Two of FreedomWorks' board members reportedly hired lawyers to investigate.
The full report is here.
Have a tip we should know? tips@mediaite.com