Conservative Muckraker James O'Keefe Blows His Cover, Torpedoes Own Investigation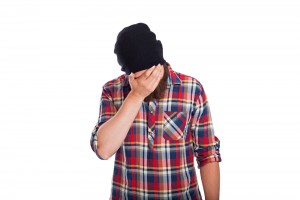 Conservative activist and self-styled muckraker James O'Keefe admits that he blew his cover and has had to abandon an investigation into George Soros' foundations, after accidentally leaving them a voicemail detailing his plot to expose them.
"Unfortunately, I'm burned on this particular investigation," he conceded.
O'Keefe heads up Project Veritas, a non-profit organization that seeks to expose corruption, fraud, waste, and other abuses, according to their website. While posing as a foreign donor named "Victor," O'Keefe called a representative of a Soros initiative, part of a gambit to expose the magnate's "connection to radical agitprop movements, both foreign and domestic," as O'Keefe explained it.
O'Keefe told Breitbart News in an interview published Thursday:
I posed as a Hungarian businessman who was interested in knowing more about the foundation's work. Once I obtained the meeting, I was going to determine what efforts they were behind, so I could fund them.

So I left this individual a voicemail, but I forgot to hang up the phone. I thought the call was finished, and my team and I started discussing plans to make more phone calls to the Open Society Foundations as well as to organizations like [it]. And all of this was being recorded on a voicemail [message]. There may have been conversations with my staff pertaining to the Soros foundation. And I think it lasted about 10 minutes.
O'Keefe said he suspected that the Soros Foundation would be sharing the recording with the media shortly.
"This is a very risky business. What we do is very risky. It's impossible not to make mistakes. It's an odds game," he said.
O'Keefe came to prominence in 2009 when he released a series of selectively edited videos that purported to expose voter fraud crimes committed by ACORN, an NGO that helped to organize voter registration for low- and middle-income families. ACORN went bankrupt under an avalanche of negative publicity and calls from Republican congressmen to defund the group.
Three government investigations concluded that the group had committed no criminal wrongdoing. "O'Keefe stated he was out to make a point and to damage ACORN and therefore did not act as a journalist objectively reporting a story," the California Attorney General's report concluded.
O'Keefe told Breitbart that he had a few other long-term investigations that were proceeding according to schedule. He indicated that he had a full-time staffer "undercover" at the Clinton campaign who was "being exposed to all types of things," such as the campaign's strategy, the other politicians working with Clinton, and voter registration efforts. "That person is paid by the Hillary Clinton campaign, and by Project Veritas," he said.
He told Politco's Ken Vogel that the self-exposé, while ironic, did not compromise him.
Chatted with @JamesOKeefeIII.
He concedes there's irony in his inadvertent voicemail, but doesn't think there's anything compromising in it.

— Kenneth P. Vogel (@kenvogel) May 19, 2016
[h/t Ken Vogel]
—
[image via shutterstock]
Have a tip we should know? tips@mediaite.com