Conservative NewsBusters Wonders: What If A Republican Told An Amos 'n' Andy Joke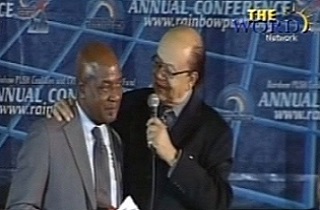 I've said it before, and I'll say it again: if it weren't for their sick anti-gay obsession and occasional race-war panic attacks, conservative media watchdog NewsBusters would be adorable. The leading news source for people who can't understand why black people get to say the n-word, but white people get all kinds of static for it has dug out yet another infuriating-to-themselves "double-standard," this time in the form of a joke that was told at Jesse Jackson's Rainbow PUSH Saturday Morning Forum over the weekend. What makes this bit of Newsbluster noteworthy is that I have an answer for them.
Chicago radio host Cliff Kelley told an Amos 'n' Andy joke, and NewsBusters' Mike Bates can't understand, well, much of anything about it:
"Amos 'n' Andy" was so controversial that in 1951 the NAACP demanded it be taken off the air for its derogatory portrayal of blacks. By 1966, the NAACP won a victory by stopping the show's reruns from airing.

But at Jesse Jackson's Rainbow PUSH Saturday morning forum this week, "Amos 'n' Andy" was back in fashion. Chicago talk show personality Cliff Kelley emceed a panel discussion. Warming up the crowd, Kelley placed his arm on the shoulder of Harvard law professor Charles Ogletree and tried a little humor:
Here's the bit that was able to muster Bates' outrage:
Bates expresses confusion that no one present "objected to what some would describe as racial stereotyping," theorizing that "Perhaps Marcia Fudge, chair of the black congressional caucus, ranking member of the House judiciary committee John Conyers, or Jackson himself enjoyed the joke."
Perhaps it is too much to expect Mike Bates to understand the mixed cultural legacy of Amos 'n' Andy, or the finer points of humorous intent, but perhaps he could recognize that he doesn't understand, and stay out of it. To Bates, the problem isn't that Amos 'n' Andy was emblematic of a rich American tradition of degrading depictions of black people, but that a black person told a joke from the show. Nobody show him Spike Lee's Bamboozled; his head might explode.
This is all NewsBusters boilerplate, but it's not as common for the site's writers to button a post up with such an easily-answered hypothetical:
But can you imagine the stir if something similar were said at a conservative, GOP, or Tea Party event?
Why yes, I can. I imagine the speaker would be nominated to run for the United States Senate. You're welcome.
Have a tip we should know? tips@mediaite.com