Conservative Radio Host Tells CA Gov. Jerry Brown: I'm Not Going To Kiss Your Butt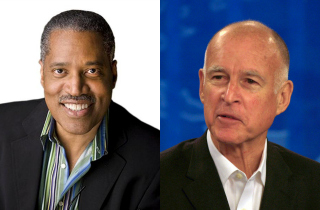 During a tense exchange with CA Gov. Jerry Brown, conservative radio host Larry Elder told the Democratic governor that he will not be "kissing your butt" and won't back down from his disagreements.
The two sparred for a while over the governor's plans for an expensive bullet train in the state. Elder argued that the train would not be able to run without wasteful government subsidies, to which Brown replied, "You don't think the freeways are run with subsidies? The airports are run with subsidies. Come on. It costs money."
Brown continued: "If you're one of these anti-government guys who wants to dismantle the basic infrastructure of civilization, you and I have a disagreement."
"Now who's being rude and unfair?" Elder fired back. "I never said anything about dismantling government."
After a bit more back-and-forth, a frustrated Brown said, "Look, you invited me under the pretense of talking about one subject."
"No, Governor," Elder shot back. "Your staff called us and you wanted to come on this show, and now you're unhappy because I'm not kissing your butt. I'm not going to do it."
The two then seemed to back down from their aggression, with Brown saying, "I'm very happy. I think this is great because you're getting a different point of view to your listening audience. That's good. I like that. And you don't have to agree with me, and I don't have to agree with you."
And the segment concluded on a cordial note, with the two exchanging compliments about each other's debate skills and appreciation for being able to share airtime together.
Listen below:
[h/t NewsBusters]
— —
>> Follow Andrew Kirell (@AndrewKirell) on Twitter
Have a tip we should know? tips@mediaite.com